Tier1 Solutions from a Premier Oracle Partner
Welcome to RAPID, AST's pre-configured solution for Oracle Cloud applications. We leverage Oracle's in-built best practices and AST's world-class consulting services to streamline your operations and show fast ROI.
Our unique workshop approach ensures the software is a "right fit" and defines the timeline BEFORE you commit. We provide a turnkey implementation, automated testing, training and production support, along with a roadmap for future consideration.
AST's RAPID solution includes these Oracle modules:
Financials (GL, AP, FA, AR, EXP, CE)
Purchasing
Inventory
Product Information Management
Cost Management
Order Management
Manufacturing
Key Benefits of This Solution

Reliable
Adopt Oracle's Tier-1 cloud applications and in-built best practices out-of-the-box.

Fast
Drastically reduce standard implementation time, with typical savings of 40-60%.

Transformational
Transform business operations efficiently and economically, without burdening staff with an implementation workload.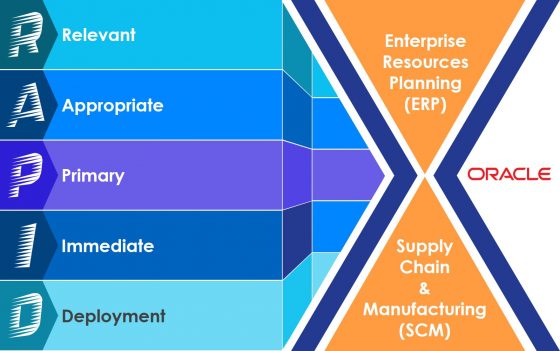 Our approach is not "quick and dirty" or "fast and furious". Rather, it is a relevant, appropriate, and immediate foundation for business success. Our approach minimizes client resource requirements for testing, instead focusing on the key success factors of data migration, learning, and change management. Ultimately, our client's time is spent on acceptance and adoption, rather than verifying that we configured the solution correctly. Our proven capabilities also ensure drastically reduced TCO and that you are positioned for long-term success."
Paul Sharpe
RAPID Architect, AST LLC
Contact us to learn more about how AST RAPID can benefit your organization.