Fast-Track Your Oracle HCM Cloud Implementation
Speed, savings and performance – you really can have all three with AST's turnkey RAPID solution for Oracle HCM Cloud. With AST RAPID, you can harness powerful new business capabilities in as little as 13 weeks, with a 40%-60% reduction in implementation costs for a faster path to ROI.
You already know Oracle's reputation for helping firms create flexibility, increase resilience and drive growth with its cloud HCM solutions. Now AST, the largest pure-play Oracle ERP cloud implementation firm in North America, offers its RAPID implementation solution to accelerate your deployment of these Tier-1 Oracle applications while providing tangible ROI.
With AST's RAPID solution, you gain an out-of-the-box solution that reduces cost and risk, helping you grow revenues and profitability with minimal disruption to your business during implementation.
Use our RAPID implementation of Oracle Cloud to:
Transform your business operations
Reduce costs and condense your implementation timeline
Decrease the implementation burden on your staff
Key Benefits of AST's RAPID Solution
Transform Your Business Operations
Leverage Oracle's Tier-1 HCM applications and built-in modern practices to transform your business operations.
Align people, business strategies, and financial information to plan your future workforce
Evaluate workforce skills, expected retirement and attrition, and predict where future skills are needed
Provide forward-looking insight into your workforce trends to increase performance, avoid attrition, and quickly accommodate organizational changes
Build a solid foundation for continuous digital transformation
Reduce Costs and Condense Your HCM Implementation Timeline
Gain fast access to your new Oracle applications with AST's RAPID implementation, increasing your business flexibility and agility.
Harness powerful new capabilities in as little as thirteen weeks
Reduce implementation costs by 40%-60%
Gain a faster path to ROI
Reduce the Implementation Burden on Your Staff
Free your staff to innovate and serve customers with AST's RAPID turnkey Oracle HCM Cloud implementation.
Let AST take care of all requirements gathering, modeling and testing
Use our personalized training materials to drive user adoption
Get four weeks of production support to make the transition
Gain support for your first month-end close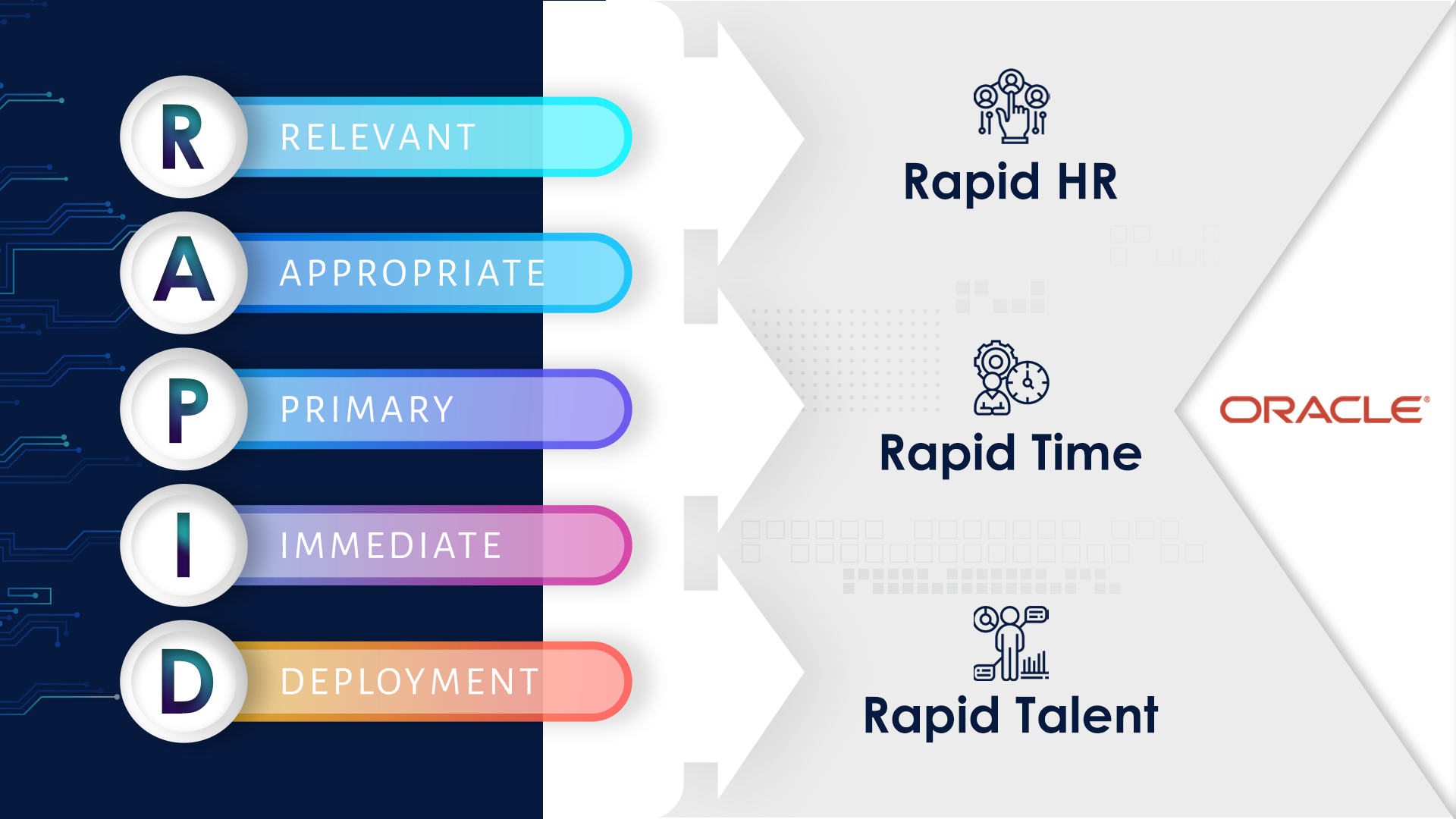 Our approach is not "quick and dirty" or "fast and furious". Rather, it is a relevant, appropriate, and immediate foundation for business success. Our approach minimizes client resource requirements for testing, instead focusing on the key success factors of data migration, learning, and change management. Ultimately, our client's time is spent on acceptance and adoption, rather than verifying that we configured the solution correctly. Our proven capabilities also ensure drastically reduced TCO and that you are positioned for long-term success."
Paul Sharpe
RAPID Architect, AST LLC
Contact us to learn more about how AST RAPID can benefit your organization.