UPDATE 2021 B
Manufacturing & Supply Chain

Projects & Portfolio Management
JET User Interface
JET UI Enhancements for Configuration Arrays
What it Does: Introduces new functionality and dynamic updates for a more responsive user experience while viewing and editing content.
Why it Helps: Enables user to resize columns, freeze the header, wrap cell contents, show/hide rows, and use scroll bars.
Filter Lines When Exporting to .XLSX File Format
What it Does: Creates a new option to allow the export of only the Line Item Grid data that is visible to the end, taking into account Commerce hiding rules and Line Item filter rules.
Why it Helps: Streamlines export and manipulation of data in Excel.
Support Auto Update of Attributes
What it Does: In the past when you made any attribute changes you had to click the update button to trigger a save. Now the system automatically updates.
Why it Helps: Saves time and prevents data loss from forgetting to trigger updates.
Data Cube Exports
Expanded Filter Operations for Data Cube Exports
What it Does: Expands filter operations for Data Cube Export customers to provide more robust filtering capabilities.
Why it Helps: Data exports can be filtered to pull only what you need, or to stagger exports and imports to your data warehouse.
Oracle Order Management Cloud Integration
REST API Order Management Integrations
What it Does: Leverages Order Management Cloud REST APIs with orchestration and error handling capabilities using an integration platform such as Oracle Integration Cloud (OCI).
Why it Helps:  Enables sales users to:
Create a quote in Oracle CPQ and invoke OIC to create an order in Oracle Order Management Cloud.
Create orders for physical goods and related services (e.g. warranties)
Sales users can cancel or terminate orders for single or multiple products within the same order or an entire order
Oracle Sales Integration
Enhanced Attributes and Attribute Mappings
What it Does: Expands predefined attributes and attribute mappings between CX and CPQ.
Why it Helps: Expanded capabilities support:
Different types of pricing and revenue
Viewing of aggregated revenues for an entire model
Search, find, and drill-down on quotes and quote lines
Ability to activate a quote from within CX Sales
Retaining opportunity splits throughout the quote lifecycle
Improved reporting and analysis cross-functionally
CX Foundation
See Immediately Whether Email and Phone Numbers are Valid for Accounts and Contacts
What it Does: Indicates whether an email or phone number has been verified and the date it was last verified directly on the account and contact pages.
Why it Helps: Salespeople know immediately if the email and phone number are valid, and when they were last verified.
Sales Analytics
View Team and Individual User Adoption Metrics in Application Usage Insights
What it Does: You can now view details of team and individual usage in Application Usage Insights.
Why it Helps: Sales Managers and others can view usage to shed light on patterns that are key to improving user adoption. Managers can view how much time is spent in the application, how many records were created or updated and what channels were used (e.g.,. Mobile or website).
CX Sales Mobile
Configure the Global Search Results Display
What it Does: Add or remove standard or custom fields to configure the global search results display.
Why it Helps: Users see the most important information in search results, helping them find information more easily and quickly.
Support Partner Relationship Management
What it DoesAdds PRM accessibility to the CX Sales Mobile app.
Why it Helps: Channel managers and other Partner Management users can now leverage the CX Sales Mobile app to manage and grow channel sales efficiently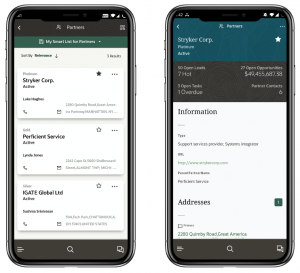 Oracle General Ledger Cloud
Journal Categories Excluded During Manual Journal Entry
What it Does: Optionally restrict the list of journal categories available for manual journal entry.
Why it Helps: Users don't need to wade through a bunch of irrelevant journal categories when creating a manual journal entry.
Oracle Subledger Accounting
Subledger Journal Entry Analysis
What it Does: Analyze accounting rules and source values used to create a subledger journal entry, determine whether appropriate rules were used, and make changes where required.
Why it Helps: Facilitate rule configuration during implementation, provide better visibility into rule exceptions, and create a full audit trail of accounted transactions.
Oracle Accounts Payable Cloud
Display Cumulative Total for Selected Lines in the Match Invoice Lines Page
What it Does: Enables AP to view the cumulative total amount of selected purchase order schedules.
Why it Helps: Users are spared external calculations when matching only certain rows of an invoice.
Oracle Accounts Receivable
Enhanced Message Content in Transactions Delivered Using Email
What it Does: Send transactions using email with enhanced rich text content in the body of the message. Users can choose different fonts, modify font size and style, and insert logos and hyperlinks.
Why it Helps: The enhanced content improves the user experience for customers who receive transactions as an email attachment.
Oracle Budgetary Control
Budget Entry Classification for Initial or Adjustment Budget Balance Using Spreadsheet
What it Does: Enables users to select the budget entry type to impact either initial or adjustment budget balances.
Why it Helps: Control the classification of your budget entries as initial budget or budget revision to reflect the intention of the budget entry for reporting and inquiry on budget balances.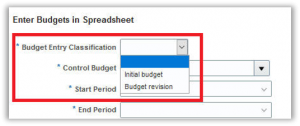 Encumbrance Accounting
View Funds Reservation Errors when Final Close or Reopen Fails for a Purchase Order
What it Does: Drill down to the funds reservation results from error messages.
Why it Helps: error messages are displayed when final close or reopen fails for a purchase order because of issues in releasing or reserving funds. You can contact the budget manager listed on the results for assistance in resolving the issues.
Oracle Expense Cloud
Cancel Payment Requests for Expense Reports
What it Does: The ability to cancel payment requests for expense reports allows companies to prevent incorrect reports from reimbursement processing and communicate real time status to employees.
Why it Helps: There are lots of scenarios where employees need to change something on an expense report.  This feature cab=b prevent the deduction of erroneously-paid expenses from employee paychecks.
Detect Duplicate Expenses
What it Does: Identify duplicate expenses using a scoring model and alert employees when duplicates are found.
Why it Helps: Employees can review the duplicate expenses in the Expenses work area and take actions, such as deleting the duplicate or merging the duplicate expense with the original expense.
Oracle Lease Accounting
Lease Contract Import and Conversion
What it Does: Use the Lease Import utility to simplify both lease conversions and new lease creation.
Why it Helps: The Lease Import utility removes or reduces the need for manual intervention during the lease creation process. Import a batch of leases directly into the desired status: Draft, Validated, Complete, or Booked.  of the budget entry for reporting and inquiry on budget balances.
Global HR
Display Approval Details After Approval Completion
What it Does: Allows employees and contingent workers to access to the details of the Change Personal Information and Person External Identifiers approvals after the transaction has been approved.
Why it Helps: More visibility and transparency from an employee's perspective.
Control Defaulting of Business Title Based on Position or Job
What it Does: Control whether an employee's business title is defaulted from position or job.
Why it Helps: Some organizations use their own internal nomenclature business titles, especially for public-facing individuals.  This feature enables more control of publicly-facing job titles.
Position Management: Ability to Save for Later
What it Does: You can now enable the Save and Close buttons on these pages:
Request a New Position
Request a Position Change
Duplicate Position
Update Position
Correct Position
Why it Helps: Improved user experience since users can now keep saving as they complete each process.
HR Optimizations
Improvements to Workforce Modelling
What it Does: We can change the hierarchy, hire new people, transfer people seamlessly. The system now automatically refreshes the supervisor hierarchy once done.
Why it Helps: When you promote somebody at a higher level or if you transfer somebody out of the org hierarchy,  the direct reports are no longer left orphaned in the system.
Health & Safety
Health Survey
What it Does: Enables the employee self-service incident report flow to include a health survey.
Why it Helps: Organizations can gather more information as needed from employees during the incident reporting process.
Localization Optimizations
Attribute Visibility Changes
What it Does: Simplify performing legal employer transfers with easier access to the Copy balances to the new employment record checkbox.
Why it Helps: This checkbox is now displayed automatically in the Payroll Details section of the Local and Global Transfer and Mass Legal Employer Change pages.  Prior to this release, this box was hidden and accessible only through changing the rule in Transaction Design Studio (TDS).
Workforce Management Cloud
Automatic Addition of Public Holidays on Time Cards
What it Does: Whenever a person or a process creates a time card for a period that contains a public holiday, an entry for that holiday is automatically added to the time card. The holiday entry uses the hours from the person's schedule. Because public holidays are unique, the holiday entry is excluded when someone copies a time card with a holiday entry.
Why it Helps: Responsive time cards save the effort of creating time cards from scratch on a periodic basis.
Performance Management
View All Employee Performance Documents in a Review Period
What it Does: View all the employee's performance documents for a review period instead of just the current ones in the employee's Performance page. You can filter the list to view the current, completed, or canceled performance documents depending on your role.
Why it Helps: Find performance documents more easily with the new default set to All.
Talent Management
Improvements to LinkedIn Profile Import
What it Does: Now when users want to import profile data, they can choose the specific LinkedIn content and they can only see and import the content that maps to content sections they have access to. Also,  users can see clearly what content they are importing for each of the content templates, and they can correct errors on the go.
Why it Helps: LinkedIn's profile import improvements that are intuitive and less error-prone to bring in LinkedIn's profile items.
Payroll
Changes to Payment Statuses
What it Does: You can now use new payment statuses Paid and not Reconciled and Reconciled that reflect stages of the payroll process where payments are transferred to cash management and are reconciled.
Why it Helps: Can be used to determine the corrective actions you can or cannot take on the payment on the Payment Results Page in Payroll.
Balance Adjustments Costing for a Distributed Element
What it Does: Uses Payroll Process Configuration to control the costing of distributed elements with the Use costed option for distributed balance adjustments parameter.
Why it helps: Prevent payroll costs being posted to the suspense account.
Costing When the Sum of the Retroactive Distribution Group Entries Is Zero
What it Does: uses payroll process configuration parameter Distributed costing for a retro element uses normal elements to distribute the costs of a retroactive element based on regular entries and retro entries. Regular entries are only included in the distribution calculation when the sum of the retroactive entries in the distribution group is 0.
Why it helps: Prevents the costs for retro deduction elements being posted to the suspense account when the sum of retro distribution entries is zero.
Leave Management
Automatic Copy of Work Schedule Assignments During Local and Global Transfer
What it Does: When you transfer someone, all active and future work schedules and work schedule exceptions are automatically end dated in the old organization. The transfer process automatically links them with the same work schedule and work schedule exceptions in the new entity, if the schedule and exceptions are available.
Why it Helps: Improves productivity and satisfaction with enhanced automation that includes enrollment and copying of work schedule assignments and their exceptions during local and global transfers.
Recruitment Cloud
Enhanced Job Application Progress Bar
What it Does: When an external job applicant applies for a job posting then there's an application progress bar and this bar denotes the stage in the application process.
Why it Helps: Applicants get a clear view of where they stand in the  application process.
Candidate Duplicate Check in Move to HR
What it Does: When a candidate applies to multiple jobs get shortlisted for them, it ensures that when the profile is moved to HR, only a single offer is processed.
Why it Helps: Saves significant time in recruitment efforts. Also, prevents scheduling interviews for multiple positions.
Automatically Extend Job Offers
What it Does: Job offers can be extended automatically to candidates once the offers have been approved.
Why it Helps: The process is faster as recruiters no longer have to extend offers manually.
Manufacturing
Pre-assign Product Lots to Work Orders
What it Does: Preassign one or more lot numbers for a product from a manufacturing work order.
Why it Helps: Preassigning of the product lots to a work order can help accurately track product lots, their transaction history, and their genealogy relationships throughout the production process.
Inventory Management
Default Lot and Serial Numbers from ASN or ASBN During Put Away
What it Does: Leverages received ASN or ASBN from a supplier that contains lot and serial information to simplify the receiving process.
Why it Helps: The warehouse operator can view and select the lot and serial numbers assigned when the ASN or ASBN is created, eliminating the need to manually re-enter the numbers.
Order Management
Schedule Sales Orders for Back-to-Back Items Using Transactional Supply
What it Does: Retrieve transactional data in real time to promise back-to-back transfers and purchases.
Why it Helps: With this change, it is no linger required to collect supply data to update availability for back-to-back purchases or transfers. All other order promising requests continue to rely on collected data.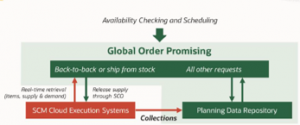 Product Lifecycle Management
Execute Global Functions using Rules
What it Does: Define global functions using Application Composer that can return a value to be used for assignment or validation.
Why it Helps: Gives flexibility for additional accuracy across your enterprise by allowing invocation of validations and data retrieval across base and custom objects.
View Context-Specific Attributes in Affected Objects Tables
What it Does: Provide the ability to view line-level descriptive flexfields on a change order.
Why it Helps: Easily configure and display relevant process attributes for affected objects of each change type to facilitate informed decision-making.
Purchasing
Configure the Sender Email Address for Purchasing Document Communication
What it Does: You can now configure any email address for the sender.
Why it Helps: Makes it easy for suppliers to white-list the address and ensures that emails from suppliers are received in a centrally-monitored inbox.

Communicate Purchase Orders to Secondary Recipients Using Cc and Bcc
What it Does: Notify additional supplier contacts or internal stakeholders when a new purchase order or change order is communicated by email.
Why it Helps: Increases communication capabilities from forms:
Edit Order and Edit Change Order
Communicate action from Manage Orders
Communicate action from View Revision History
Communicate action from View Order
Cancel Order
Project-Driven Supply Chain
Create Supply in Back-to-Back Flows for Sales Orders that Include Project Details
What it Does: Ensures that the project expenditures that you see in inventory are accurate.
Why it Helps: If you create a sales order that includes project details in Order Management, then Supply Chain Orchestration will include our project details on the purchase order, transfer order, or work order. You can then receive or finish the item in project-specific inventory in your back-to-back flows.
Sourcing
Share Negotiation Attachments on External Website with the Abstract
What it Does: Include supplier attachments when posting an abstract on a public website.
Why it Helps: Attachments categorized as 'To Supplier' can be displayed in the abstract listing. All attachment types are supported including file, text, or URL link. This control is also available when creating an amendment, or a new round.
Configure Approval Rules Using Negotiation Style, Display Name and Response Visibility
What it Does: Leverage new attributes to configure negotiation and award approvals and send to the right approver based on:
Negotiation Style
Negotiation Display Name
Response Visibility
Why it Helps: Attributes can be combined to give more control over approvals.
Grant Management
Award Template Descriptive Flexfields
What it Does: Specifies descriptive flexfield values on award templates and uses them while creating an award from a template. Additionally, enables review and override of copied descriptive flexfields directly on the award.
Why it Helps: Users no longer need to manually create additional flexfields after creating the Award, and have more control overall.
Project Billing
Item Billing for Item Contract Lines
What it Does: Enables billing for items and captures item, quantity, unit price, and amount information on the invoice.
Why it Helps: Billing specialists can capture item and quantity on billing events and generate invoices for the events with the item and quantity reflected on the invoice lines. The item and item unit price come from the contract line associated with the billing event. Prior to this release, billing specialists could only bill for the amount as item and quantity details were not captured on the billing event.
Grouping of Invoices by Bill-To Site and Bill-To Contact
What it Does: Generates separate invoices for each different bill-to site and bill-to contact specified on the bill plans for a contract.
Why it Helps: Receivables clerks can automatically distribute invoices via email to the email addresses of each customer's bill-to contacts without further intervention.
Project Costing
Editable Capitalization Options for Project Types
What it Does: Makes capitalization options for project types editable after initial creation.
Why it Helps: Project administrators can update the asset line grouping method for a project type at any point in time. This helps to retroactively change the grouping of asset lines based on specific and immediate business needs.
Project-Driven Supply Chain
Various Enhancements
What it Does: Supports various business processes of manufacturing and asset-intensive companies.
Why it Helps: Use the Project-Driven Supply Chain solution to manage your supply chain processes in the context of projects without creating separate organizations for each project, and capture supply chain costs as project expenditures.
KPIs Usage Across Project Units
What it Does: Create KPIs that project administrators can attach to their projects irrespective of which project unit they belong to.
Why it Helps: Project application administrators can define a KPI that can be used across project units rather than duplicating the KPI in each project unit. This helps to achieve a uniform and consistent model to track project health across project units.
21B Release Note Links
CPQ Cloud
CX Cloud
Financials Cloud
HCM Cloud
Manufacturing & Supply Chain
Procurement Cloud
PPM Cloud