UPDATE 2022 A
Manufacturing & Supply Chain

Projects & Portfolio Management
Applications Security
Custom Password Complexity for Non-federated Users
What it Does: Organizations can create password policies with custom password complexity in addition to the existing password complexity types. In a custom password policy, customers can set a minimum count for each of the following password elements:
Minimum Characters
Minimum Letters in Uppercase
Minimum Letters in Lowercase
Minimum Digits
Minimum Special Characters
Why it Helps: With stringent organizational security compliance requirements, organizations can take advantage of this feature to designate custom password requirements to meet organizational requirements. There will be a seamless transition for existing users because changes take effect only after users reset their passwords. Custom password complexity can also be applied to external users (e.g., Supplier Portal).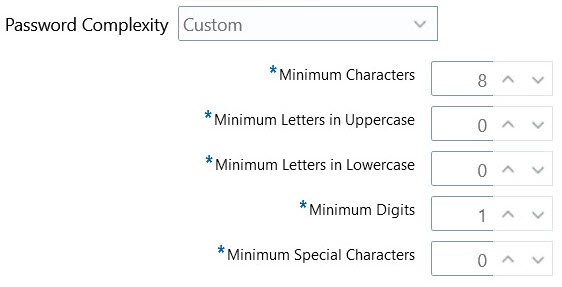 Support Descriptive Flex Fields for Roles Auto Provisioning
What it Does: Organizations can model the role mapping based on a non-typical criteria using the assignment descriptive flex fields.
Why it Helps: Leverage this functionality by mapping non-typical criteria for roles when auto- provisioning and deprovisioning.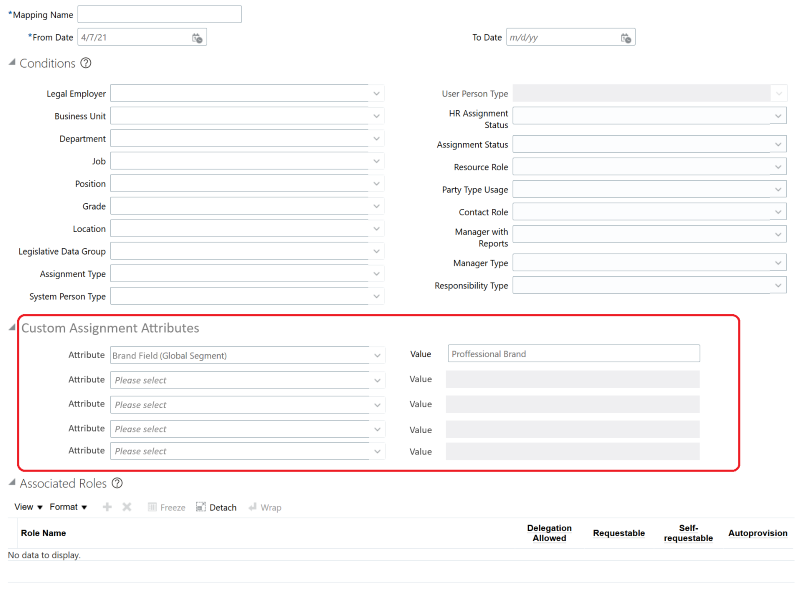 Approvals and Notifications
Audit Changes Made to Workflow Task Configurations
What it Does: Changes made to workflow task configurations can be audited to see which tasks were updated and who made the changes.
Why it Helps: Changes to workflow configurations sometimes result in undesirable results due to lack of testing. This feature helps to troubleshoot and better manage workflow setup and configuration changes.
HCM Common Architecture
Enhancements to Approvals and Notifications
What it Does: Users can immediately refresh the status of approval transactions in the  Transaction Console.
Why it Helps: Users no longer need to wait for the Refresh Transaction Administrator Console Transaction Status batch process to complete in order to view the updated status.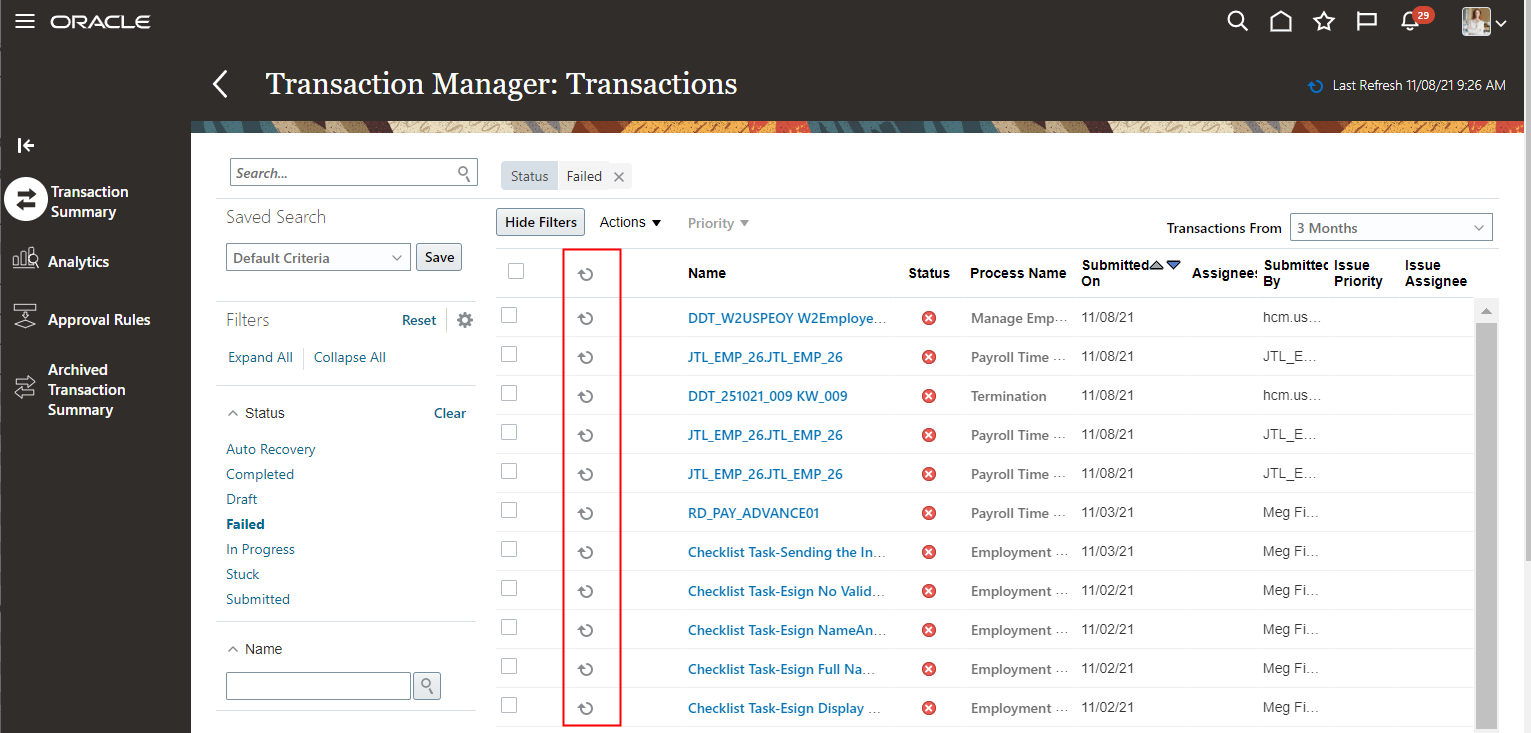 Workflow
Simplified Workflow Rules Configuration
What it Does: Enables users to leverage spreadsheets for Payables Invoice Approval and General Ledger Journal Approval workflows and send FYI notifications to members of a Supervisory or Job Level hierarchy.
Why it Helps: It enhances the creation of Journals and Payables Invoice approval workflows with providing the ability to send FYI notifications.

Parts
Increased Number of Part Custom Fields
What it Does: Increases the available count of Part Custom Fields from thirty to six hundred. The expanded field count includes: 350 text or menu fields, 200 numeric fields, and 50 fields for the new date/time data type.
Why it Helps: More of your company's custom part attributes can be stored in CPQ.
New Standard Part Fields
What it Does: Adds more standard part fields that are compatible with Oracle CX Sales parts management.
Why it Helps: This improves part information integration.
Administration
Invoke Commerce Actions Directly from a Reconfigured Favorite
What it Does: The Commerce invocation action will now be visible on the Configuration page when a Favorite is reconfigured.
Why it Helps: Improved user experience. Previously, users would need to save the reconfigured Favorite, exit Configuration, and then go into Commerce to add the Favorite to a quote.
Integration
Import Revenue Lines from CX Sales
What it Does: The REST Import Commerce integration type can now import CX Sales Revenue Lines into a CPQ transaction. This feature completes the 'round trip' integration of transaction and revenue lines for integrations with CX Sales.
Why it Helps: End users no longer need to re-enter CX Sales revenue lines into the CPQ transaction.
Leads And Opportunities
Add Revenue Lines in Adaptive Search
What it Does: Allows adding revenue lines when you configure Adaptive Search. This means that instead of having to navigate to each opportunity and find revenue lines within each one, salespeople can now view and search for revenue lines directly from the workspace.
Why it Helps: Enables users to perform a direct search on Opportunity Revenue Lines instead of searching for an opportunity and then accessing associated Opportunity Revenue Lines. This would also provide an ability to search by Product/Product Group etc.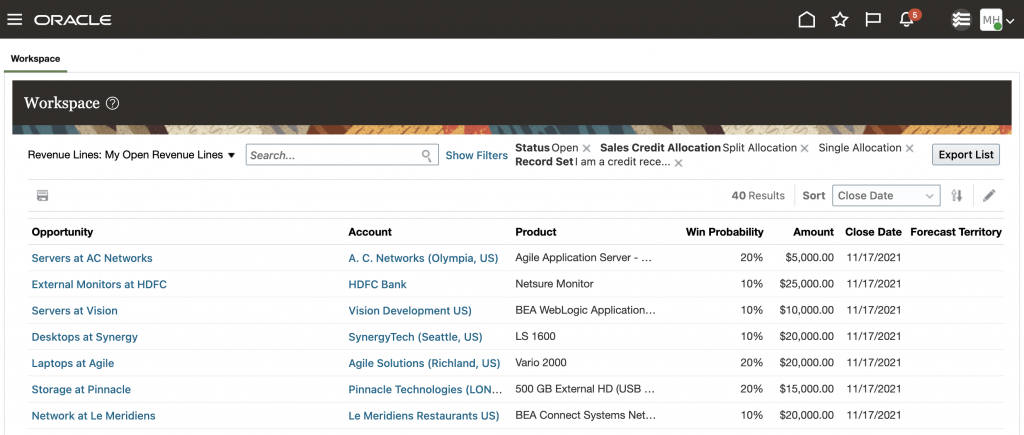 Sales Catalog
Validate That Configurable Models Are Entered Correctly
What it Does: In the sales Products UI, you can validate that configurable model information is entered correctly. Model information in products and product groups includes the collection of model, model line, model family, and model attribute values.
Why it Helps: These values are required to identify Oracle Configure, Price, and Quote configuration models. This validation enforces consistent entry of model information when managing products and product groups.
CX Sales Mobile
Enable Sales Representatives to Stay Signed Into the Application For Longer
What it Does: Enables corporate Mobile Device Management software to preconfigure OAuth authentication tokens, making it easier for users to stay signed in to the mobile app securely, and for longer.
Why it Helps: This is a highly desirable feature for all sales reps, making the mobile app more standards-based and user friendly.
Use Price Books in Opportunities
What it Does: Enables organizations to add price books to opportunities and accounts for consistent and accurate deal pricing. You can tailor default price lists corporate-wide or for specific accounts, with opportunities inheriting price lists from parent records.
Why it Helps: Enables salespeople to immediately understand recommended prices when adding products to an opportunity, and removes the necessity of using a third party tool (e.g., Groovy Scripts) to accomplish this function.
CRM Common Components
Create Routines to Automate Repetitive Tasks
What it Does: Organizations can configure routines for business scenarios that help improve the performance of salespeople. For example, you might create a routine to alert users when opportunities are stuck and require attention to move them along the sales cycle.
Why it Helps: Routines can enforce data hygiene by discarding obsolete or outdated information, and they can reduce risk by providing timely and relevant reminders to focus on key customers.
General Ledger
Cross-Validation Rules Creation and Maintenance Using File-Based Data Import
What it Does: Manages cross-validation rules for your chart of accounts using file-based data import (FBDI) that provides efficient tools for creating and editing large volumes of cross-validation rules.
Why it Helps: Helps when uploading records in bulk to create, update, and delete cross-validation rules. Supports external integration using REST services to bring cross-validation rules into General Ledger. Streamlines the user experience with an integrated Actions menu in the UI for on-demand file upload, file download, and process submission.
Budgetary Control
Budget Balances Synchronization from Budget Transfers in Both Budgetary Control and General Ledger
What it Does: Enables entry of budget transfers in the Review Budgetary Control Balances page and synchronizes budget balances for both Budgetary Control validation and General Ledger query and reporting.
Why it Helps: This new budget entry method helps to synchronize budget balances to General Ledger without being dependent on a spreadsheet or FBDI budget upload methods.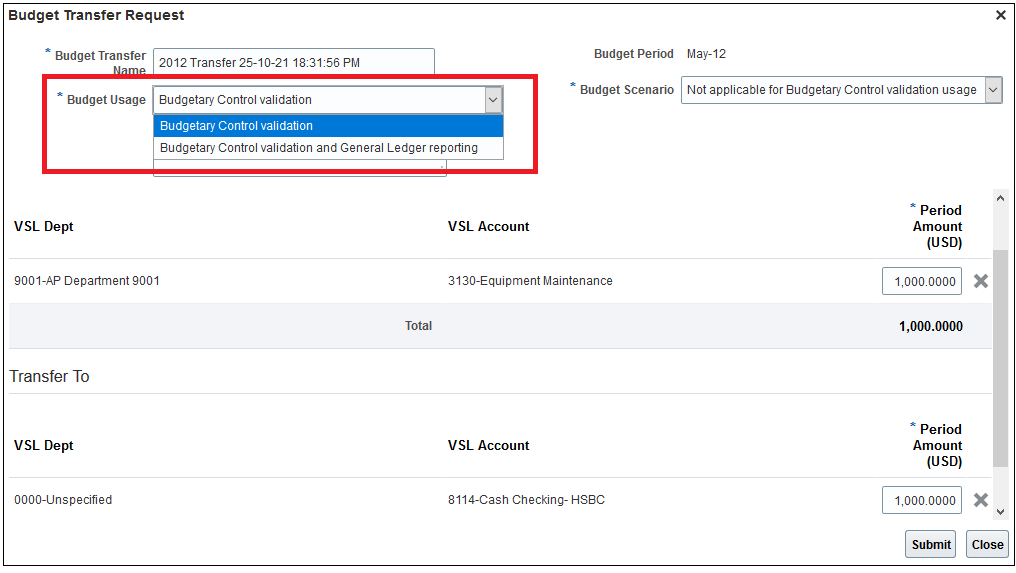 Payables
Automatic Notifications to Suppliers for Rejected Electronic Invoices in Industry Standard XML
What it Does: Informs suppliers about rejected electronic invoices by returning electronic responses using industry-standard XML.
Why it Helps: Until now, suppliers were notified about rejected electronic invoices only by email. You can now inform the supplier about rejected invoices electronically using industry-standard XML that can be processed automatically in supplier systems. This lets suppliers correct rejected invoices and send them back without the need for manual status queries and actions.
Configurable Payables Workflow Notifications
What it Does: Allows users to drill down to the invoice from an email or in-app notification on certain Payables workflows.
Why it Helps: Users with the View Payables Invoices privilege can drill down to the invoice and view the details during approval. Users who don't have this privilege can't see the Transaction Details link (email notifications) and View Invoice button (in-app notifications). This helps avoid situations where users try to drill down to the invoices unsuccessfully since they don't have the required privilege.
Invoice Requester Recognized from Invoice Document
What it Does: Recognizes and extracts the invoice requester from the invoice document.
Why it Helps: This eliminates the need to manually enter the requester details on the AP Invoice. The invoice requester is automatically recognized from the invoice document via the requester email address.

Receivables
Application of Unidentified Receipts on Review Receipt Page
What it Does: Improves the application of unidentified receipts to transactions on the Edit Receipt page by enabling the Open Receivables button.
Why it Helps: When a receipt does not contain customer information, the Add Open Receivables button is enabled and the Add Application button is not enabled. Use the Add Open Receivables button to derive customer information for an unidentified receipt by entering a specific transaction number in the Add Open Receivables window. This reduces the number of steps required for a user to apply an unidentified receipt.
Expenses
Receipt Attachment After Expense Report Approval
What it Does: Allows attachment of receipts and supporting documents to an approved expense report, even after expenses are paid.
Why it Helps: This helps organizations comply with government regulations about providing adequate proof of employee expenses and with post-accounting audit compliance.
Global Human Resources
V3 Termination and Resignation
What it Does: Enhances termination and resignation functions in Global Human Resources by using the new version 3 (V3) Terminate Employment and Resign from Employment pages.
Why it Helps: In the current V2 pages, you can only terminate or resign employees from the whole work relationship. However, the new V3 termination pages provide an option to terminate or resign an employee either from the whole work relationship or a specific assignment (if they have more than one assignment).
Inline Display of Questionnaire in Journey Task
What it Does: Enables users to view and answer questionnaires directly within the journey task instead of navigating to the responsive page.
Why it Helps: This feature reduces navigation during Onboarding/Offboarding tasks.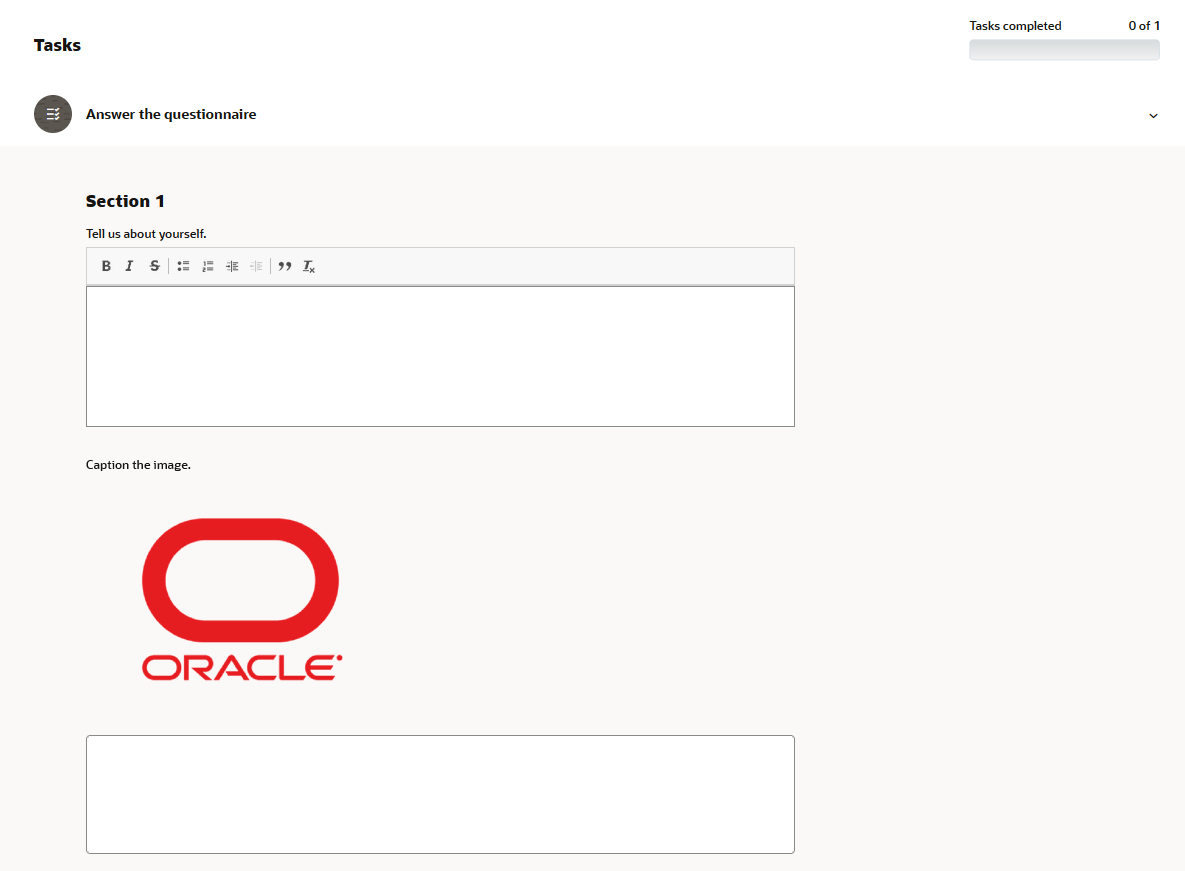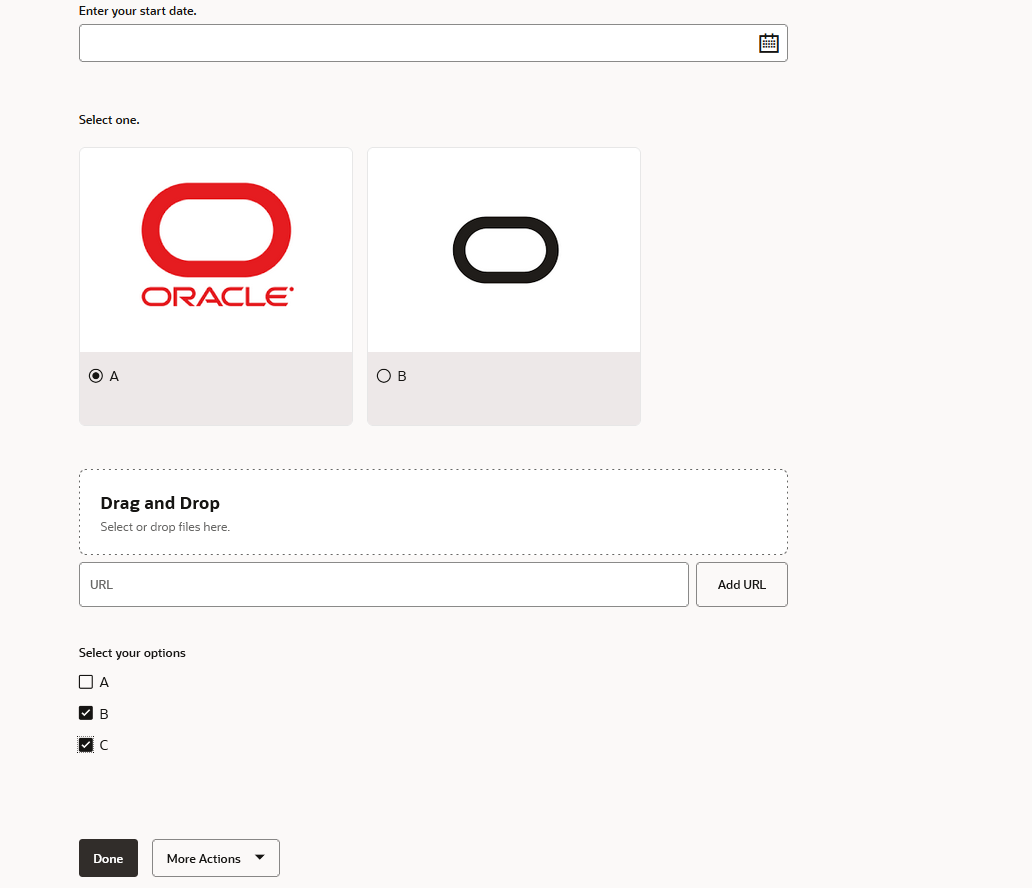 Simulate Workforce Structures and Employment Approval Rules
What it Does: Simulate and test workforce structure approval rules on the Approval Rules page in the Transaction Console.
Why it Helps: You can now test rules without having to recreate and submit any new transactions. This enhances the approval rules creation and testing process.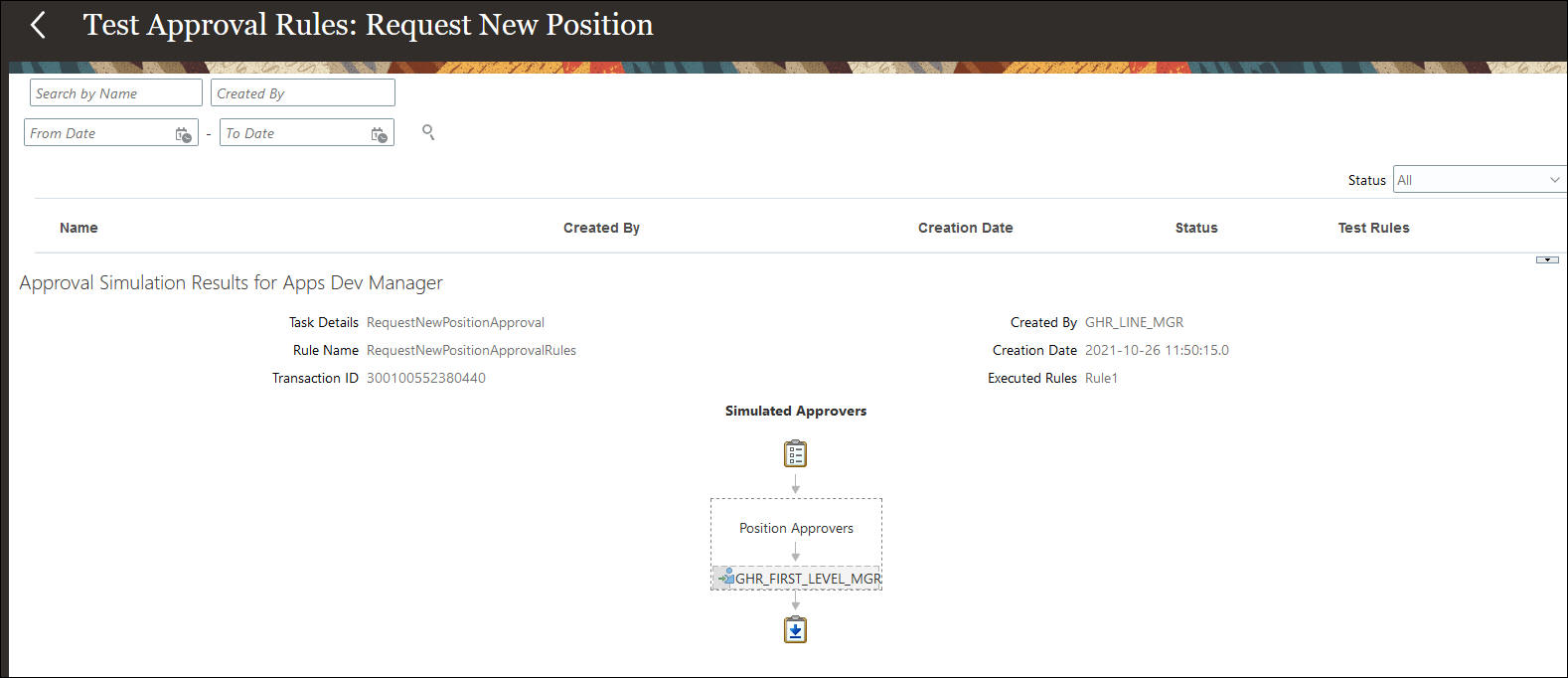 Prefill Document Record Attributes by Scanning an Attachment
What it Does: Simplify document record creation by allowing users to prefill document record attributes by scanning them from an attachment.
Why it Helps: I streamlines the data entry process by scanning  an attachment and prefilling the data attributes in the Document Details page without having to manually enter the values.
Position, Job and Location Available Only in Responsive Pages in the Work Area
What it Does: Migrate to responsive Position, Job and Location flows as the responsive pages have replaced the classic pages for these flows in the Workforce Structures work area.
Why it Helps: Improves viewing and configurability.
Compensation
Update of Worksheet Approvals Task
What it Does: Updates the Approvals task type so you can now configure task actions such as Request for Information, Change Access for Managers, and Export to Workbook. You can also have the Approval chain appear at the top of the page to let managers see where their plan changes are in the cycle.
Why it Helps: This feature adds flexibility and ease-of-use to the worksheet approvals process.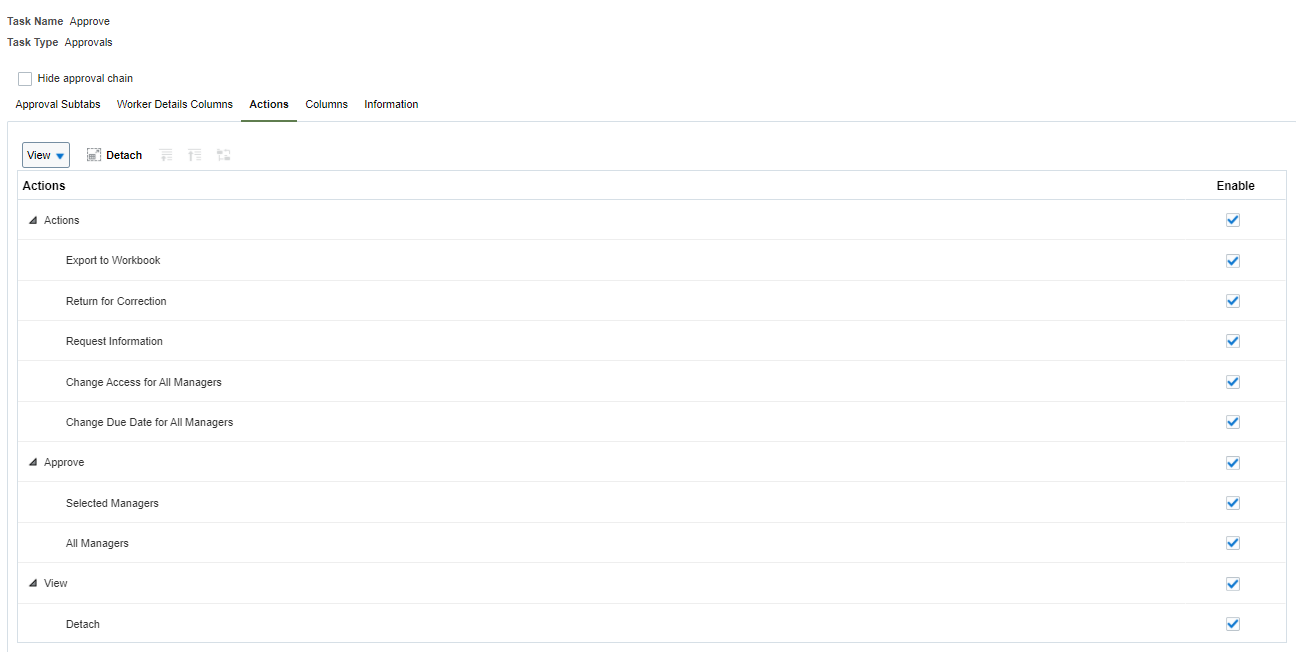 Absence Management
Plan Balances on Approval Notifications
What it Does: Absence Types now come with the option to display the current balance on the approval notification.
Why it Helps: Customers previously complained that line managers would have to manually check if the employee had the appropriate balance. This feature reduces the time needed for Absence Approval.

Time and Labor
HCM Group Enhancements
What it Does: Enables HCM groups to look at only Active HR statuses, or Active or Suspended HR statuses. The initial assignment evaluation handles this consideration. You don't need to define it in the group evaluation criteria.
Why it Helps: This provides more flexibility when creating HCM groups.  If organizations use the Suspended HR status it will no longer trigger removal from HCM groups which could have impacted reports, formulas, and other HCM entities.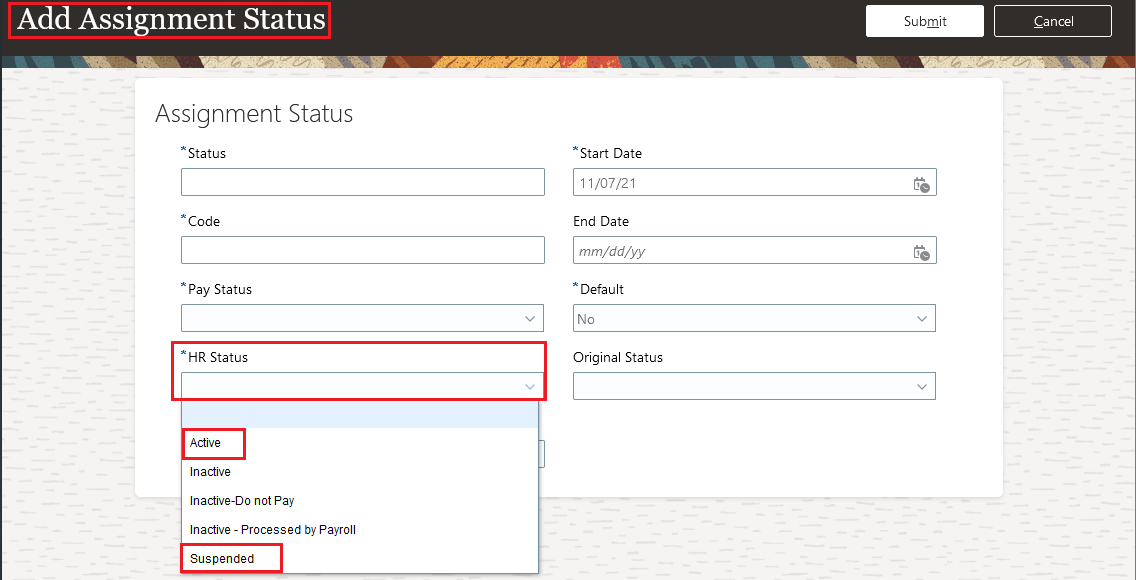 Payroll
Expand Payslip Name to Include Date and Amount Details
What it Does: You can now easily identify payslips by their unique document name. By adding information into the document title, each payslip can be uniquely identified making them more accurately accessible to users.
Why it Helps: Each payslip link is now uniquely named making it easier to identify and choose the correct payslip to view, print or download.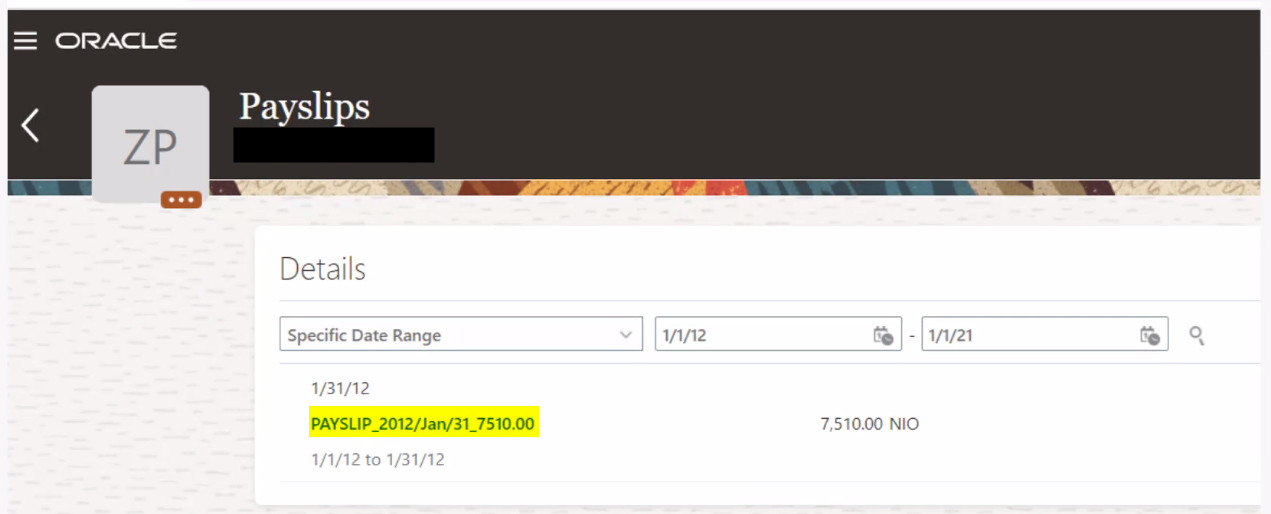 Process Filters on the Person Process Results Page
What it Does: Use the filter option on the Person Process Results page to filter and view the process result details by payroll action types.
Why it Helps: This allows users to filter by three payroll action types:
1. Calculation – All payroll run results
2. Accounting – Costing Results
3. Payments – All payment results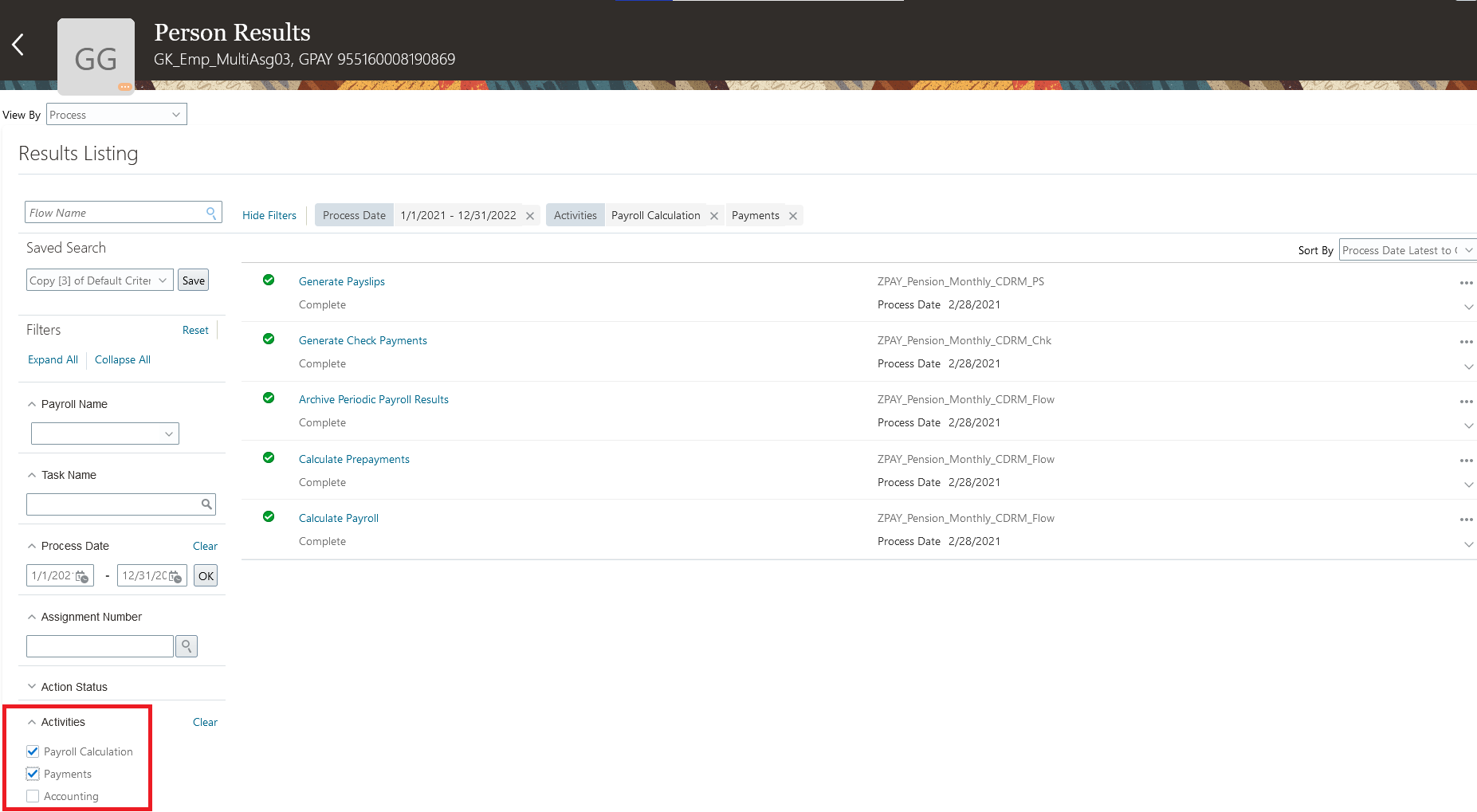 Override the Employee Retroactive Period Start Date on the Retroactive Event Notification Page
What it Does: Enables users to enter an override date on the Retro Events Page.  When the event notification is processed, the override date is used to determine the start date of the retroactive period for the employee.
Why it Helps: By overriding, you can now control the number of payroll periods included in the retro pay process.  You can also search for retro notifications with an existing override from the event notification page. This gives employers more control over how far back a retro event can go.
Recruitment
Batch Collect Feedback Action
What it Does: This allows to request feedback using the new batch Collect Feedback action on the job application list.
Why it Helps: The existing single candidate Collect Feedback action was enhanced to support the batch Collect Feedback action. With this feature, you save time when requesting interview feedback using the new batch action, instead of having to request feedback one candidate at a time.
Job Application Grid View
What it Does: When the Job Application Grid View feature is enabled, data in the job applications list is displayed in a columnar layout.
Why it Helps: The views display the most important information in the job applications list and help you review and compare job applications.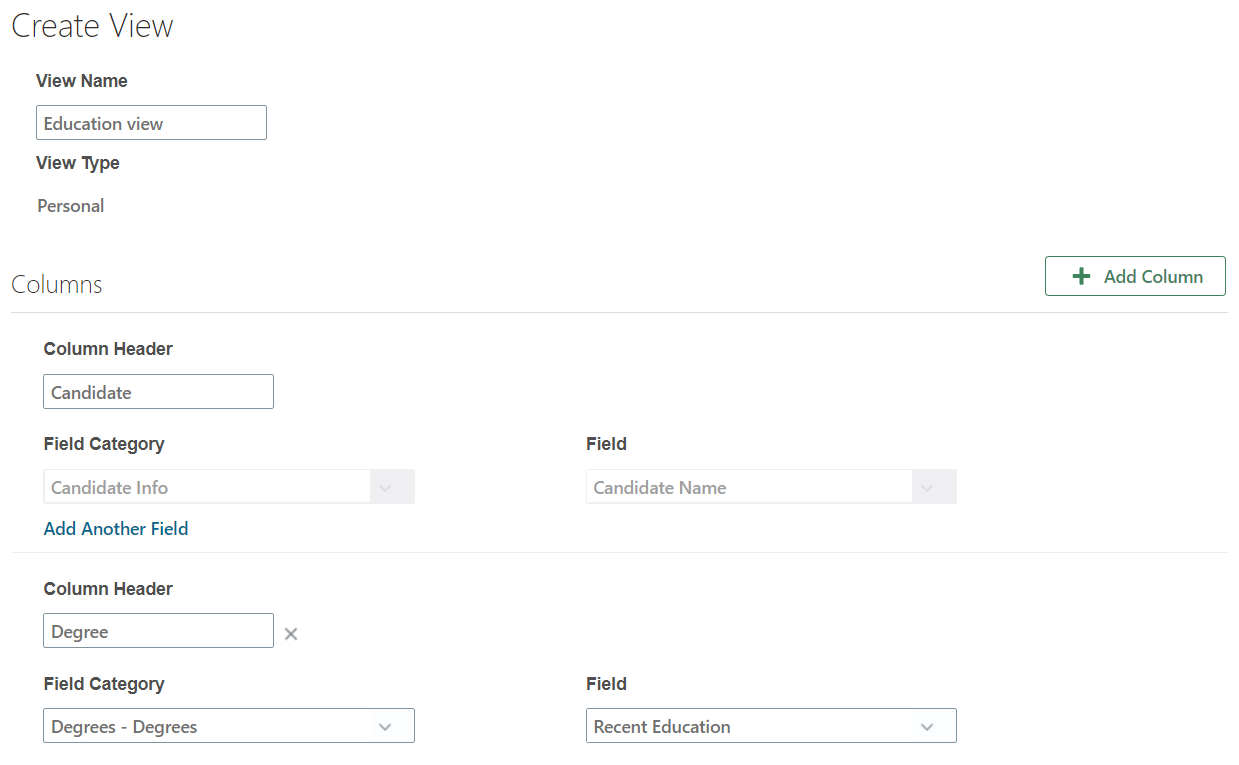 Streamline Internal Candidate Processing
What it Does: With this new capability, internal mobility candidates who accepted their job offer and were moved to the HR phase are automatically processed into their new roles in the HR system as their proposed start date approaches. With this method, no manual processing is required by the Human Resource specialists.
Why it Helps: It greatly reduces time spent by HR specialists for internal mobility.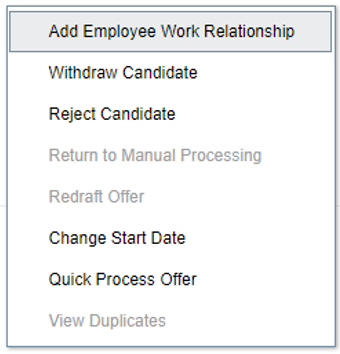 Profile Management
Add Attachments for Talent Profile Items
What it Does: You can now add attachments to individual items in the Honors, Degrees, and Licenses and Certifications content sections of the Talent Profile. You can also remove any of these attachments at any point in time.
Why it Helps: Users can maintain attachments at the profile item level to effortlessly provide and reference supporting documentation for honors, degrees, and licenses, and certifications they have acquired.
Goals
Restricting Performance Goal Library Goals Based on Workforce Structure Definition
What it Does: As administrators, you can restrict the library goals that workers and their managers can see when they try to add a library goal to a goal plan.
Why it Helps: It shows only relevant library goals to users and enhances the performance goal management of the organization.
Performance
Transfer Multiple Performance Documents By Managers
What it Does: The performance document managers can now easily select multiple performance documents and transfer them all to a new manager at the same time.
Why it Helps: It saves time by transferring more than one performance document at a time to a new manager.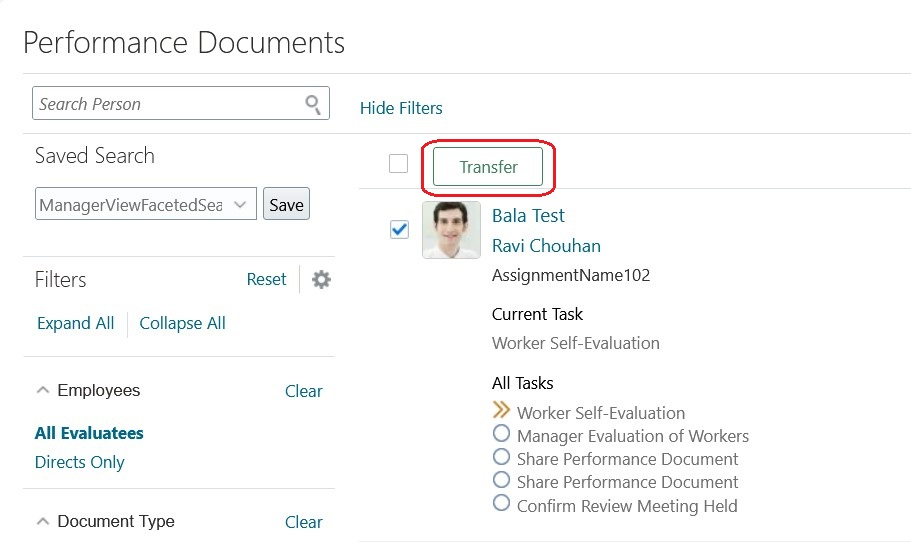 Talent Review
Talent Review Template Redesign
What it Does: While creating the Talent Review meeting template, there is no need to configure all the ratings that are delivered. Instead, configure only the ratings you plan to use or show as a display option.
Why it Helps: This simplifies the Talent Review template creation process by configuring only the ratings you plan to use to rate employees in your organization.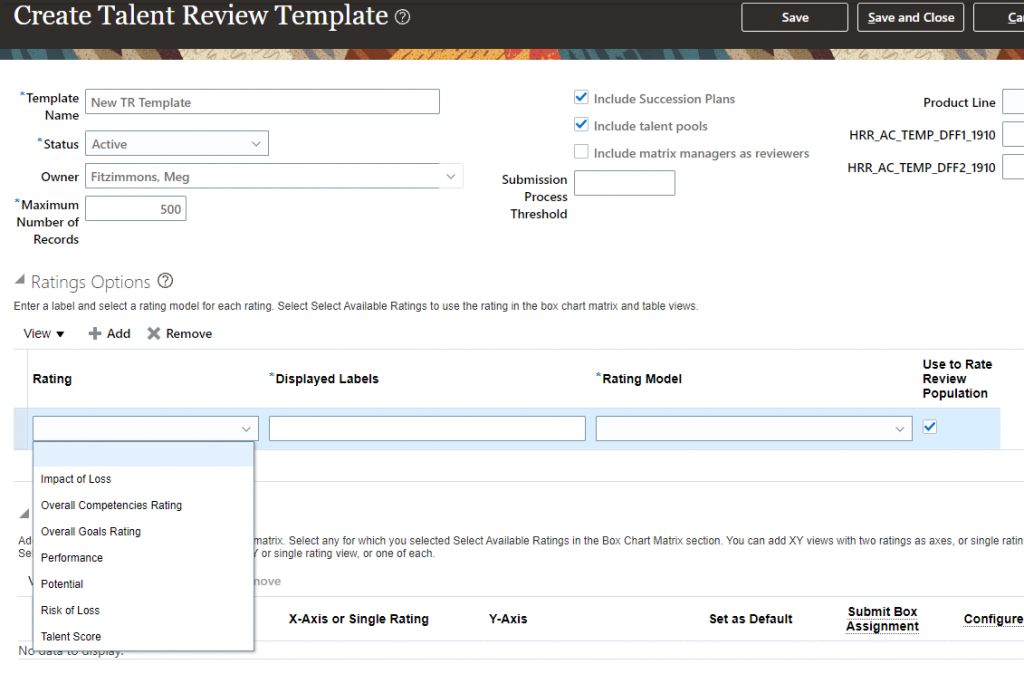 Supplier Model
Automatically Inactivate Suppliers Based on Activity
What it Does: Keeps the supply base current and well-maintained by inactivating suppliers automatically when they are no longer doing business with the organization.
Why it Helps: This feature helps eliminate the manual process of managing supplier de-activation, which is cumbersome, slow and error-prone. Users now have an option to automatically inactivate one-time suppliers after payment, as well as suppliers with no procure-to-pay activity for a specified time period.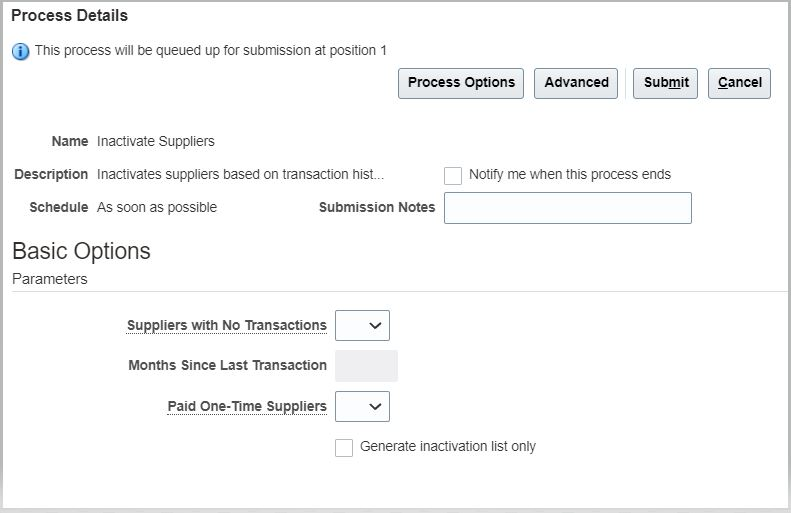 Sourcing
Identify if a Supplier Contact has an Active User Account
What it Does: Buyers can now identify if the supplier contact is active or not while adding them to negotiations.
Why it Helps: This helps buyers ensure that the invitation is sent to contacts who have access to the supplier portal to create and submit responses.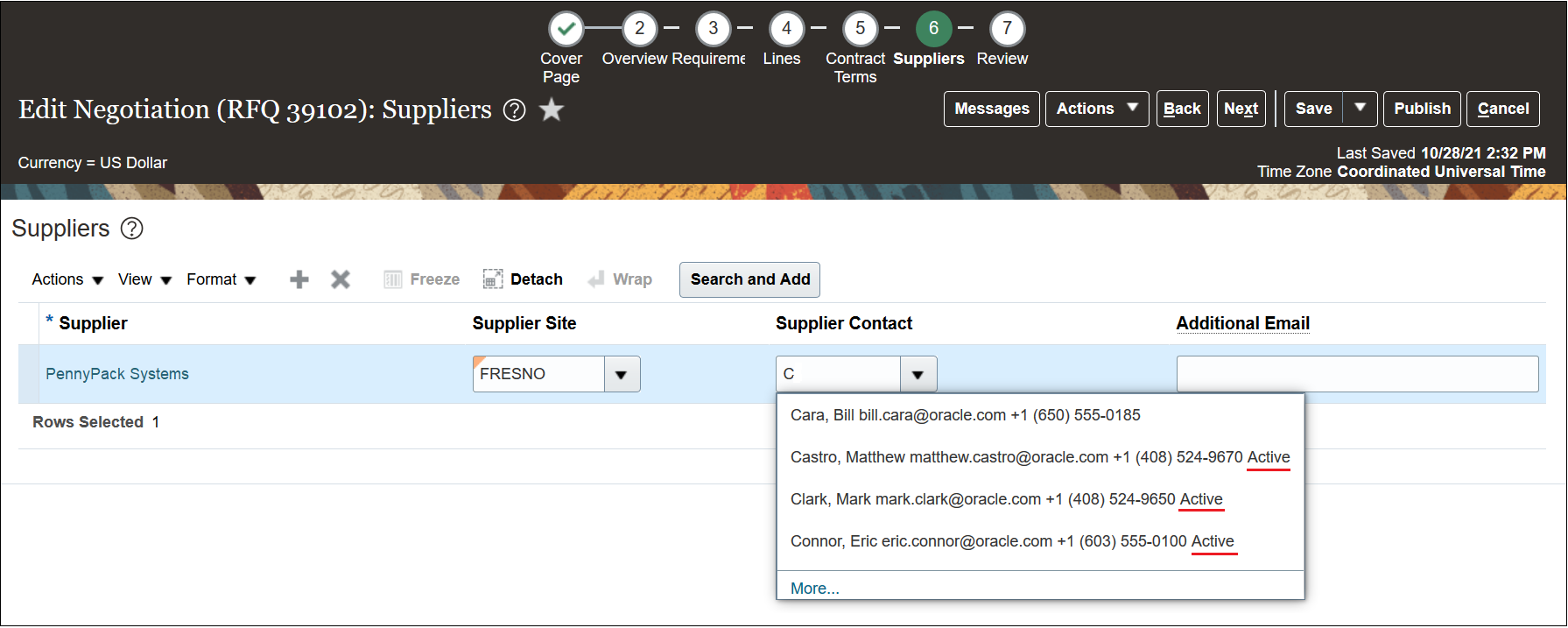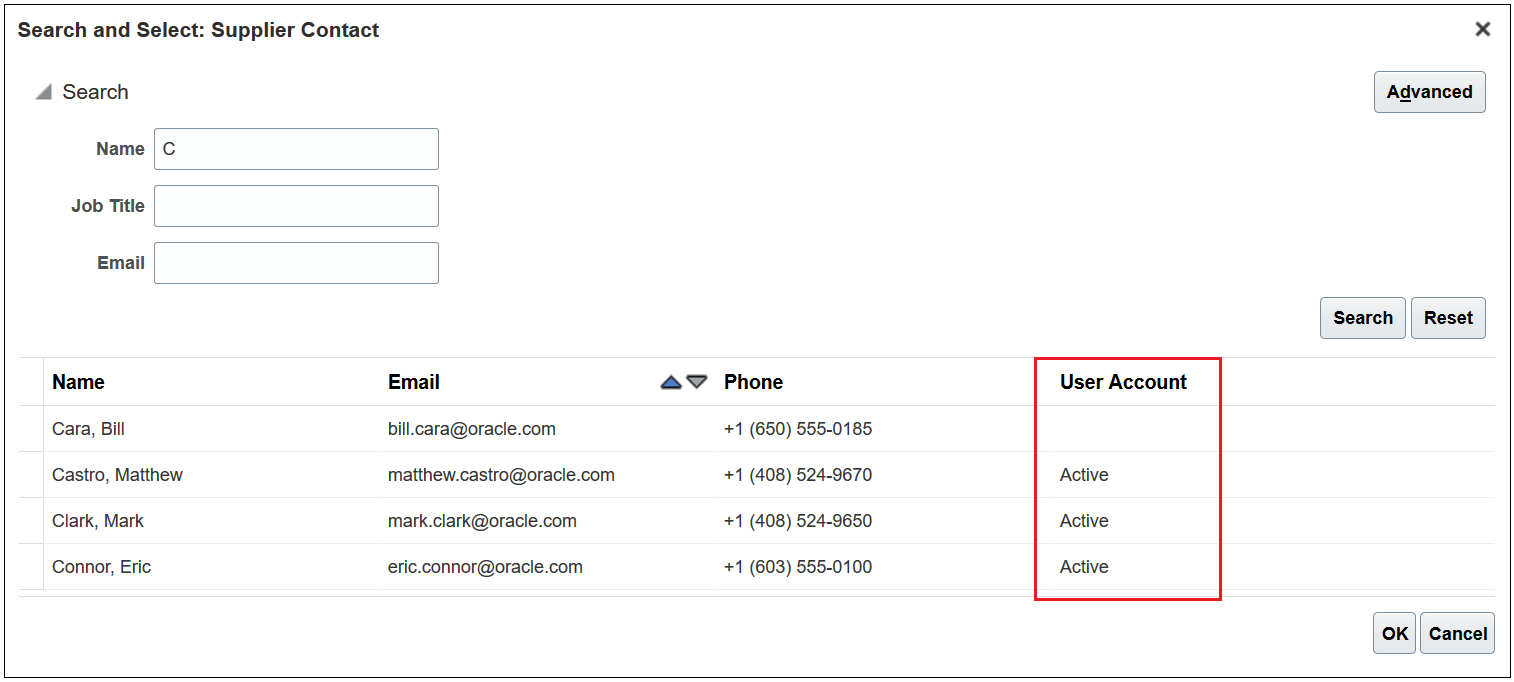 Inventory Management
Raise a Business Event When Transfer Orders Are Updated or Canceled
What it Does: Enables subscription to new public events when transfer orders are updated or canceled and trigger additional business processes or integrate with third party apps. E.g. Transportation Management.
Why it Helps: This feature is particularly beneficial for customers who want to trigger additional actions immediately after a transfer order is updated or canceled.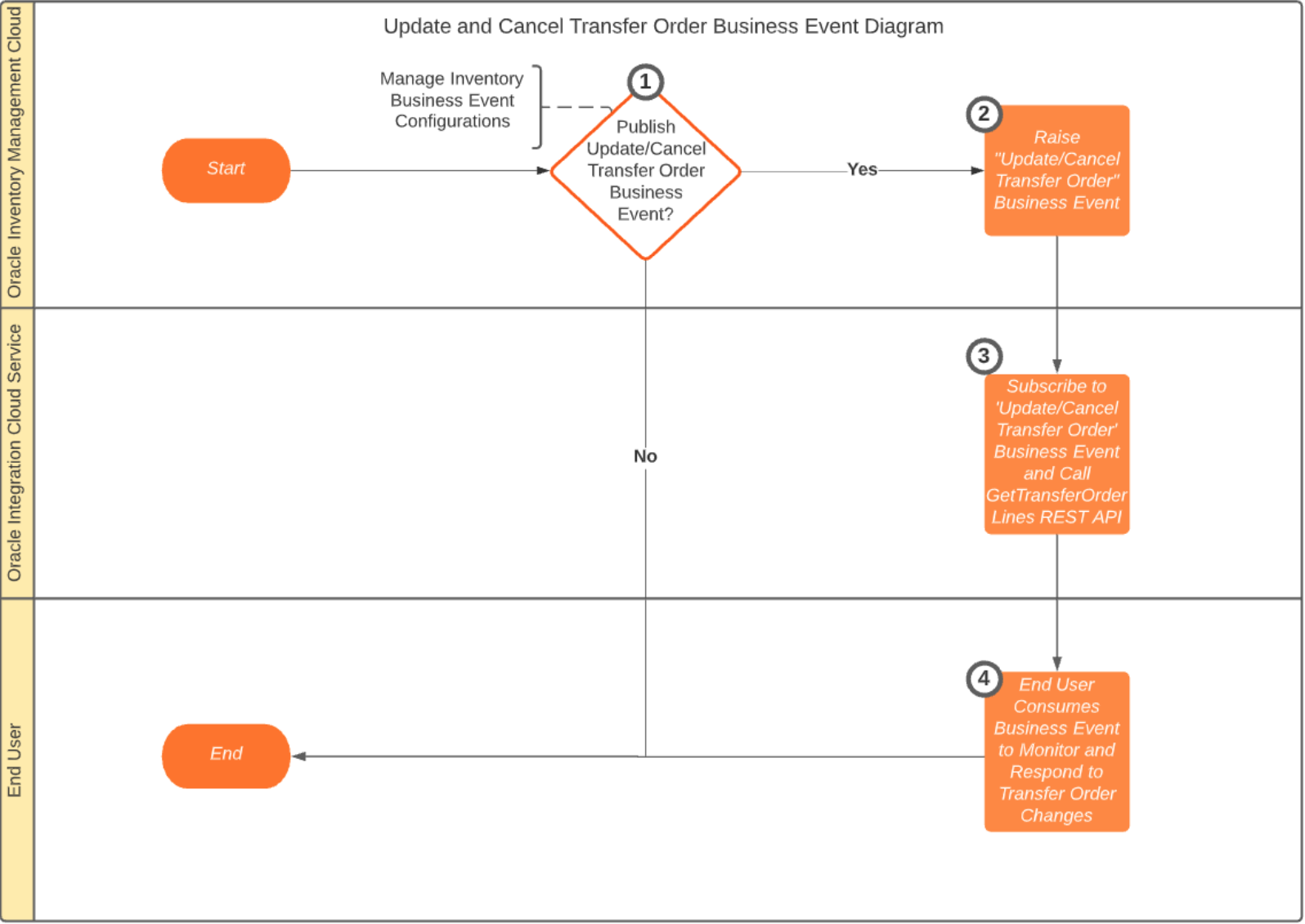 Order Management
Create Transit Times for Customer Ship-to Addresses
What it Does: Creates transit times with an origin or destination based on a customer ship-to address in Oracle Cloud Order Management.
Why it Helps: This feature will help users estimate transit times with a greater degree of accuracy and effectively commit scheduled arrival dates to customers.
Manufacturing
Re-sequence Work Order Operations During Execution
What it Does: Enables work order operations to be re-sequenced during work execution. You can complete the operations for a work order in any sequence instead of as-specified in the work order, based on an operation-level setting.
Why it Helps: This useful feature helps to continue production when there are contingent situations such as part shortages.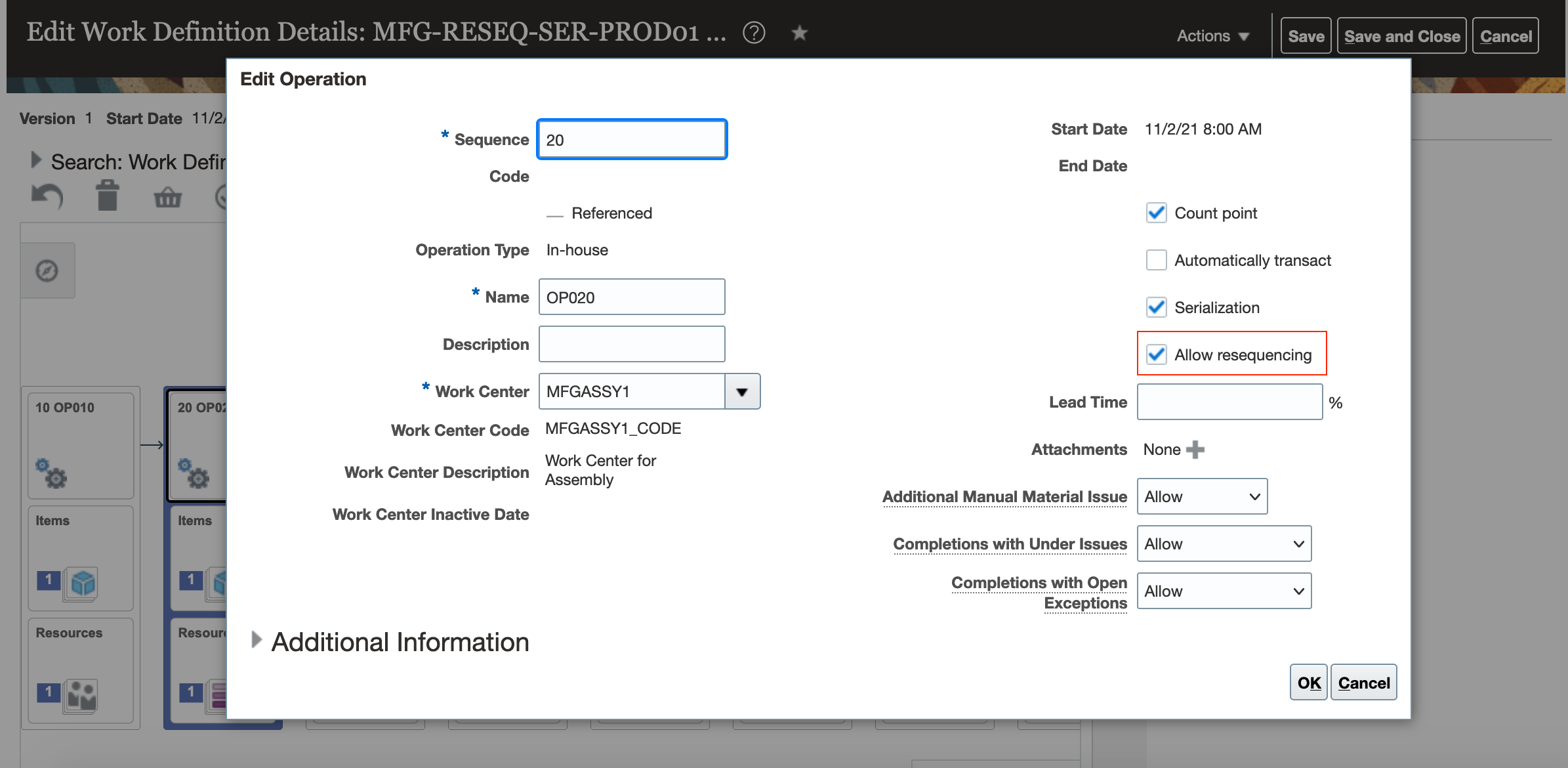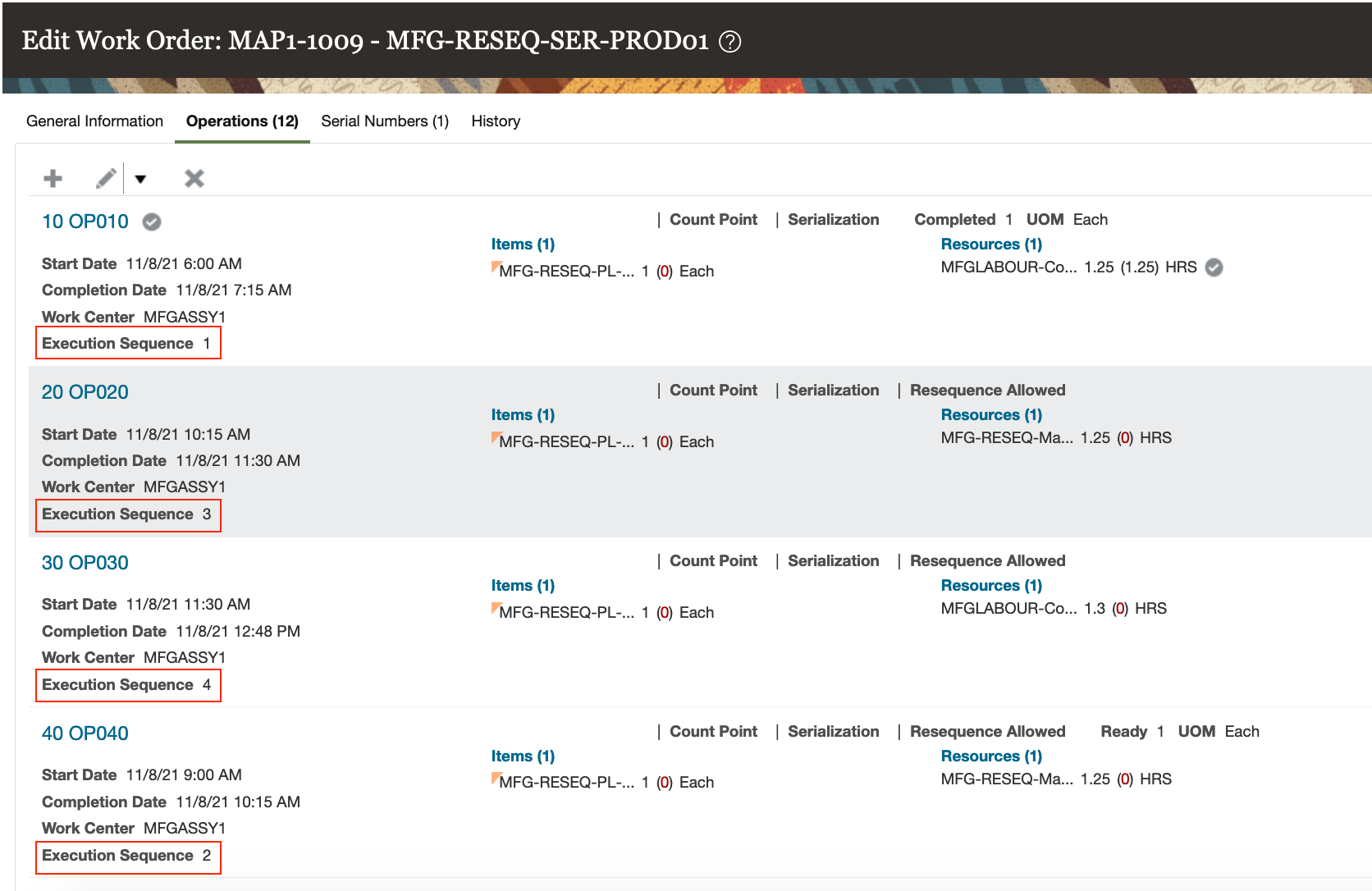 Billing and Revenue Management
Invoice Attachments Included in Invoice Approval Notification
What it Does: Enables project contract invoice approvers to view invoice attachments from the invoice approval email notification.
Why it Helps: Increases the flexibility of invoice approvals and compliance to terms and conditions.
Ship-to Account and Site Editable on Invoice Line
What it Does: Enables Billing Specialists to view and override ship-to information on a project contract invoice line.
Why it Helps: It streamlines the invoice generation process, reducing the need to ask other users (e.g., the AR Team) to update Ship-to information.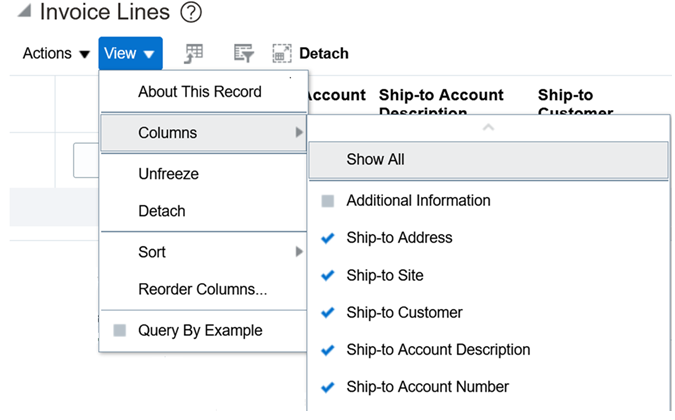 Cost Management and Control
Parallel Participant Support for Project Cost Adjustment Approval Workflow
What it Does: Enables configuration of approval rules for the project cost adjustment approval workflow to route the workflow to multiple approvers in parallel.
Why it Helps: This feature helps create parallel participants for the Project Cost Adjustment Approval workflow to meet business requirements.
Upfront Validation of Project Cost Adjustments Before Initiating Approval Workflow
What it Does: Allows users to view validation messages in real time when performing an adjustment on a single project cost instead of navigating to the Adjustment History tab.
Why it Helps: Project accountants, grants accountants, and project billing specialists can take immediate corrective actions and perform the adjustment again to successfully initiate the workflow for approval.
Workflow Transaction Console for Project Cost Adjustment and Project Expenditure Batch Approval
What it Does: Project application administrators can review workflow exceptions and either resubmit the task after making a correction to the underlying rules or withdraw the task in progress. The Transaction Access Console also provides details for the project cost adjustment and project expenditure batch approval workflows such as approval history and comments.
Why it Helps: Using a single console, administrators can proactively monitor workflow tasks and resolve any exceptions for the Project Cost Adjustment and Project Expenditure Batch Approval workflows.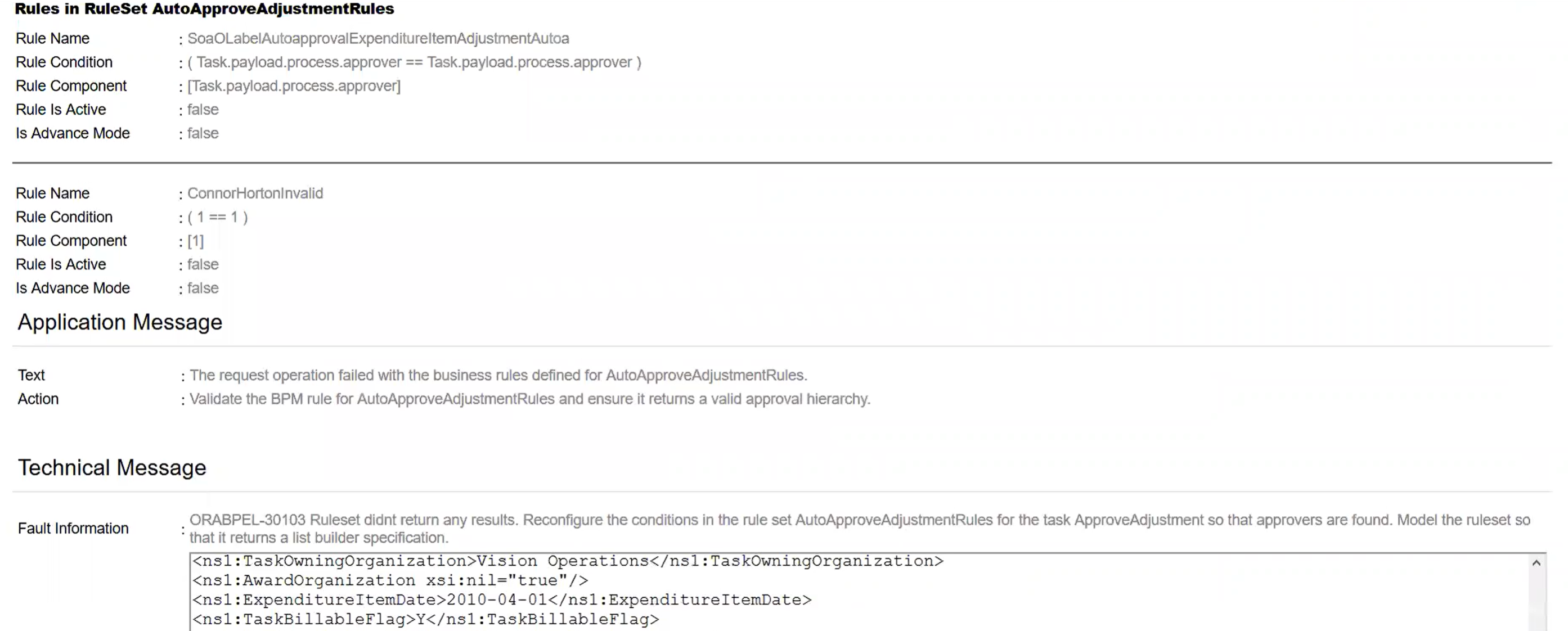 Separate Line Burden Transaction Reconciliation When Grouping by Transaction Number
What it Does: Enhances the capabilities of the Burden Grouping Process Configurator to perform additional grouping by transaction number.
Why it Helps: Reconcile burden transactions to source transactions when creating burden transactions as a separate transaction and grouping by transaction number.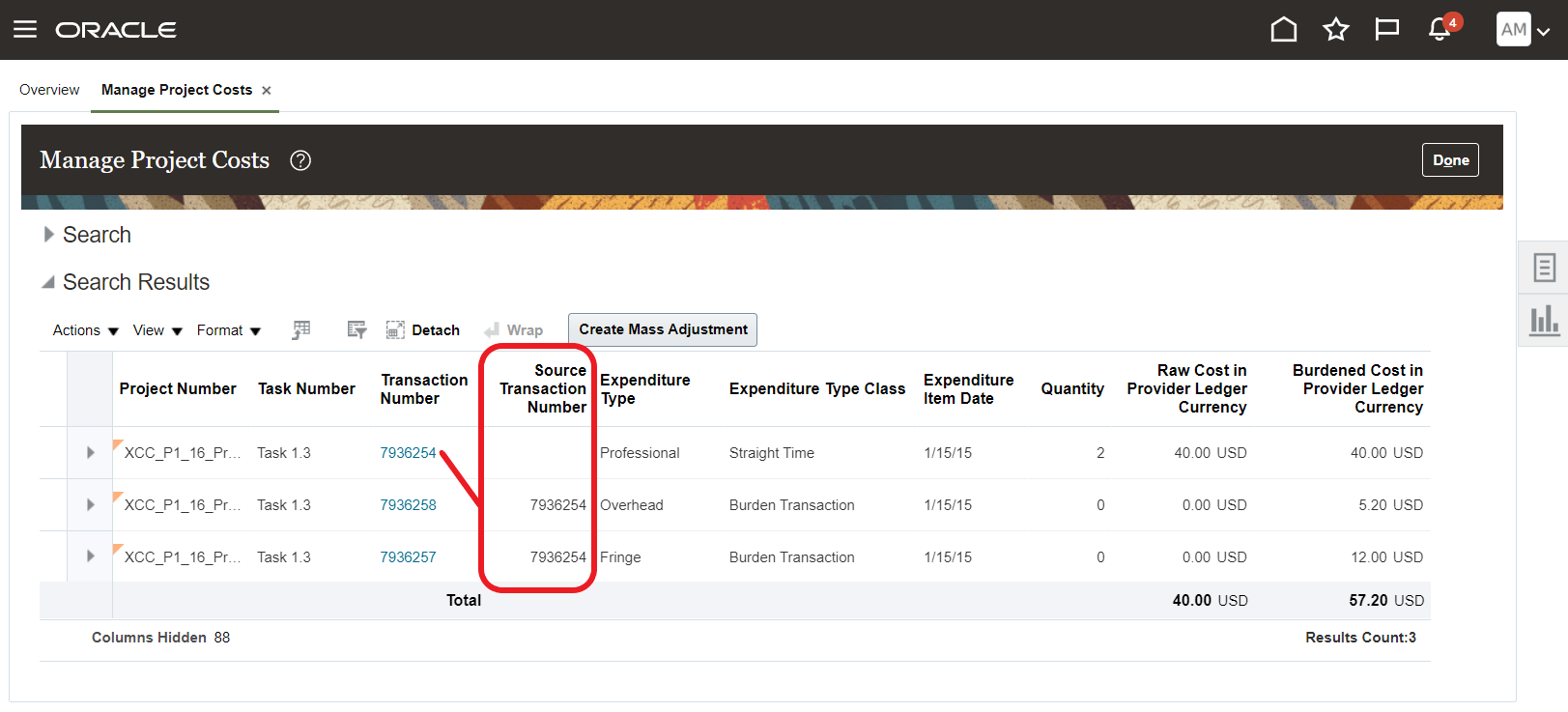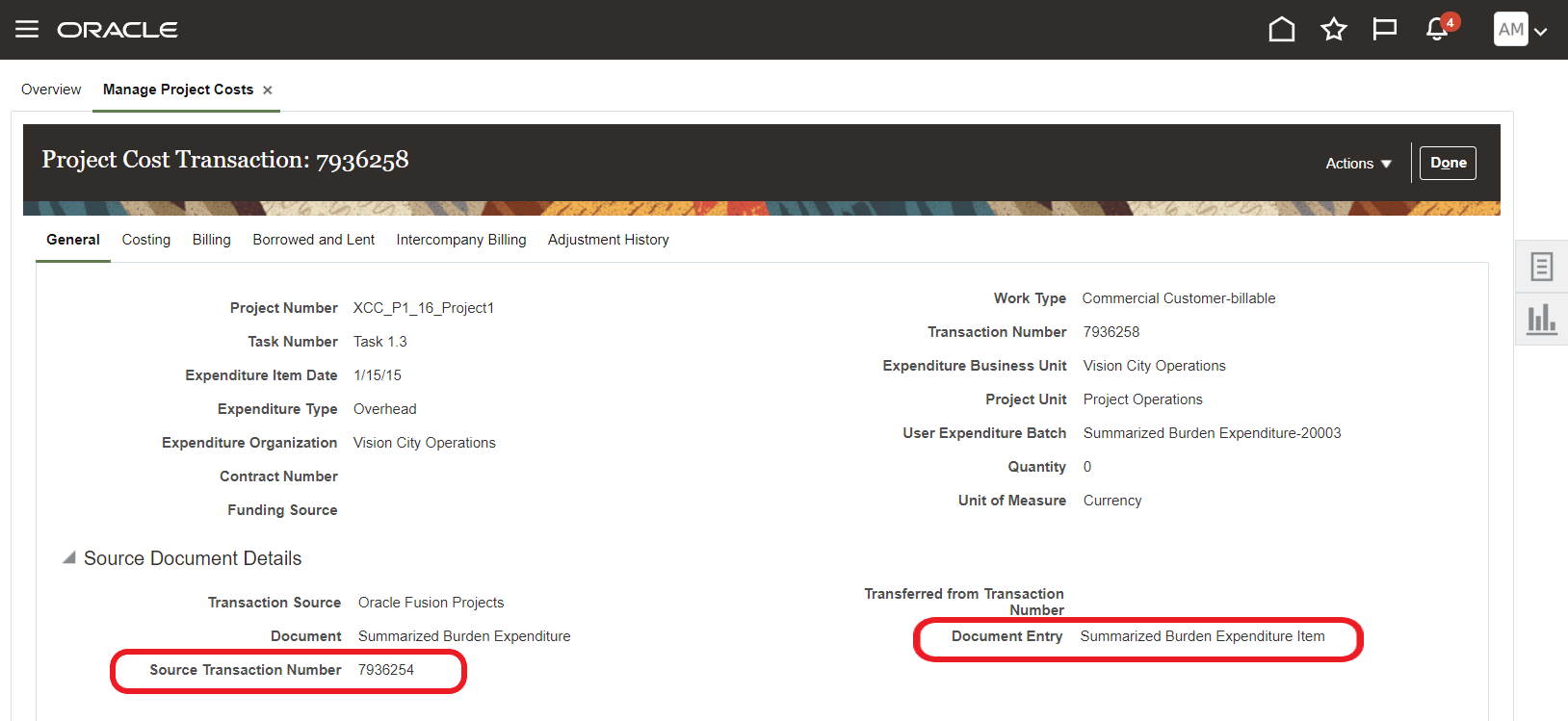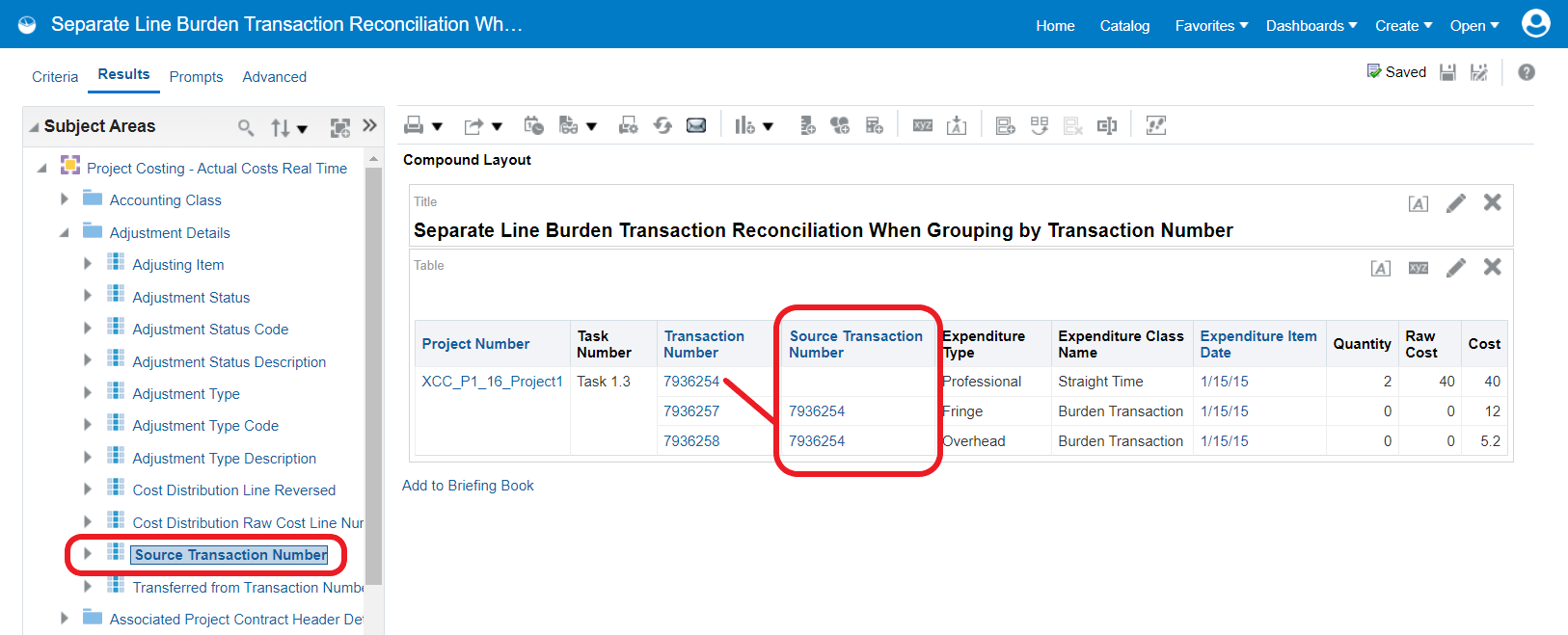 Planning, Scheduling and Forecasting
Attributes for Identifying Projects Imported from Enterprise Performance Management
What it Does: Identifies projects that are imported from Oracle Fusion Cloud Enterprise Performance Management (EPM Planning) using the Integration Application Code and Integration Project Reference attributes on the Manage Financial Project Settings page.
Why it Helps: This allows for tighter integration between EPM planning and PPM.